Full Car Weighing System for "Chocolate" and "Cheese" Trains
Who is the Customer?
Weighwell have recently carried out an installation in Switzerland of a Full Car Weighing System that provides our customer Compagnie Du Chemin De Fer Montreux Oberland Bernois SA (MOB) the ability to weigh their various trainsets.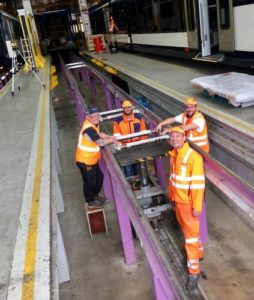 Founded in 1899 MOB's rail vehicles travel on the Montreux to Zweisimmen and Zweisimmen to Lenk railway lines. Operating under the Goldenpass brand, MOB promote the beauty of the local region by providing the world's first train with a completely modern panoramic view. MOB also provide the vintage 'Belle Epoque' Pullman carriages (over 100 years old) as part of the famous "Chocolate" and "Cheese" train journeys.
The Reason for the Full Car Weighing System?
The main advantage of a Full Car Weighing System is that it provides a PTW unit under each wheel and allows the whole railcar (train car) to be statically weighed instantaneously. The four axle static weighing system also provides the flexibility to accurately weigh via each bogie. The portable nature of our train weighing system allows it to be installed at various rail workshops and on the differing track gauges (1000mm and 800mm gauges) without the need for any fixed track modifications.
A key interface with our Full Car Weighing System is our in-house developed ptwX train weighing software. Specifically designed for train maintenance depot's our ptwX software provides accurate weighing information suited to the customers' requirements such as side to side averages, new rail vehicle layouts catered to the different trainset configurations and the language in French.
Paul Horsfall, inventor of the Portable Train Weigher, commented:
"The recent installation was a fantastic opportunity to showcase our industry leading PTW on such a prestigious project which encompasses variable gauges, different trainsets and a range of locations. The recent installation personifies our commitment to providing a reliable and comprehensive product with knowledgeable backup support"
For further information on Weighwell's static train weighing systems please click here or call them on +44 (0) 114 2699955.
Original article © Weighwell.
FOR ALL THE LATEST INFORMATION, NEWS, IMAGES, VIDEOS AND DOCUMENTS FROM WEIGHWELL, PLEASE CLICK HERE.