Webinar: Register for 'nVent ERICO Railway Surge Protection Solutions'
Not all surge protection devices are created equal; a sub-par device will incur its own costs and could leave critical assets exposed to costly damage during extreme surge events. nVent ERICO brings a balanced approach to surge protection that protects in both the rare catastrophic event as well as over the long-term with a wide range of solutions, including surge protection devices specifically designed for rail. Learn about the surge protection application areas, including:
Power Supply Protection
Surge Protection for Track Circuits (Inputs and Outputs)
Data and Telecom Equipment, RF Systems
Discover how nVent ERICO brings together a range of surge suppression solutions, including proprietary nVent ERICO technology, to ensure critical signaling equipment is adequately protected in every type of surge condition.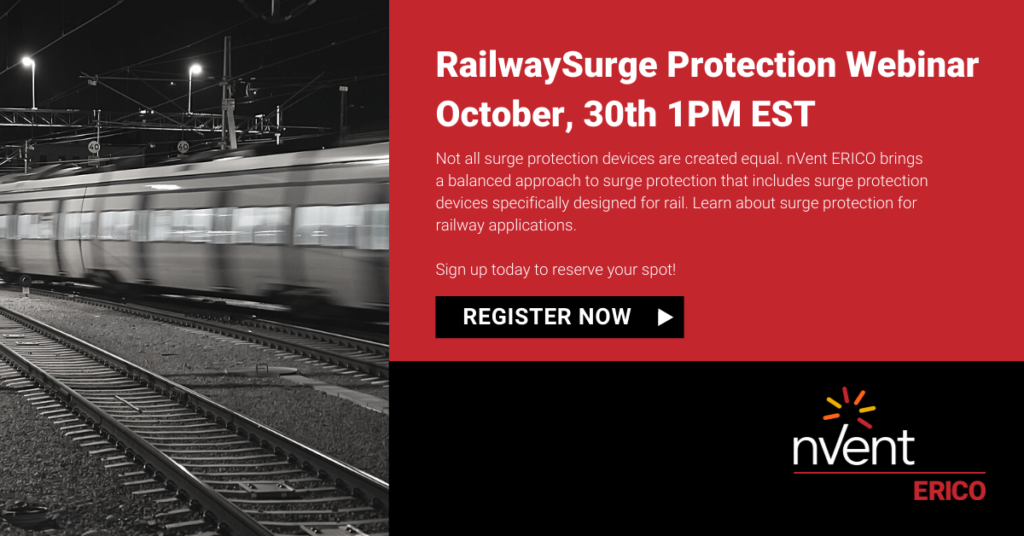 About nVent
nVent provides solutions that connect and protect critical railway infrastructure and systems, improving safety and reliability throughout the network. We offer innovative, high-quality products for critical electrical and electronic systems throughout the railway network. Through our powerful portfolio of brands that include nVent ERICO, ERIFLEX, HOFFMAN, RAYCHEM and SCHROFF, we provide electrical connection solutions for trackside and on-board applications, surge and lightning protection, trackside heating solutions, and enclosures for trackside signalling and on-board systems. Our portfolio of industry-leading products is designed to meet international railway standards. With a manufacturing and sales presence in every key rail market, we serve a global base of customers that includes railways, system integrators, rolling stock manufacturers and major rail equipment OEMs.