NEXCOM International Co., Ltd.: vROK 3030 Open Frame Panel PC for Railway Passenger Information Systems
The proliferation of passenger information systems (PIS) is challenging railway operators to find more efficient ways of utilizing space within the train. The vROK 3030 railway open frame panel PC allows railway operators to replace the traditional setup of box PC, screens, and cables with a sleek vROK 3030 open frame panel PC and screens. It implements the latest Intel Atom® x6414RE processor, supports Windows and Linux operating systems, and is designed for WLAN/WWAN wireless connectivity over Wi-Fi 6E and 5G NR. Through its LCD monitor, 1 × HDMI, and 1 × DP video outputs it provides triple displays for passenger information, advertising, or onboard infotainment, while the open frame design makes for seamless integration into a wide variety of enclosures.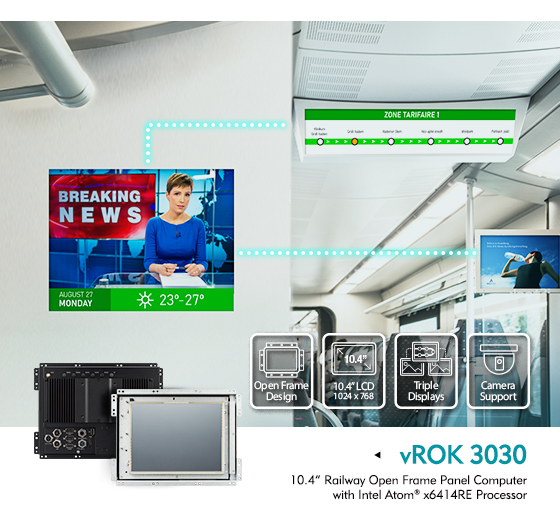 Solving the Complicated Cable Conundrum
The typical box PC is installed under the seats or behind panels and then connected to the wall- or ceiling-mounted screens with long cables. This approach takes up a lot of space and makes installation complex, especially managing multiple long cable runs. The vROK 3030 is a CE/FCC Class A, EN50155 certified open frame panel PC for railway applications that provides a space-saving all-in-one replacement for the traditional box PC and external screen. By using a panel PC as one of the screens, the cables from the box PC to the screens are no longer needed, only shorter ones from the vROK 3030 to the extended displays.
Powerful Intel Processor and Plentiful Expansion Options
The vROK 3030 fanless embedded PC features an Intel Atom® x6414RE quad-core processor and a 10.4" TFT LCD monitor with PCAP touch (optional) with 1024 x 768 resolution and sunlight-readable 1200 nits brightness. External display support is handled through an HDMI 1.4b (3840 x 2160@30 Hz) and DisplayPort 1.4 (4096 x 2160@60 Hz) display outputs for a total triple display computer. Other features include support for up to four CVBS or two PoE cameras for applications such as video surveillance, and rear-view mirrors, where the 2.5GbE high data bandwidth network connection enables the highest video quality.
Comprehensive Range of Options
The vROK 3030 includes several other flexible installation and use features, including a VESA 75 mount and BOM optional panel/flush mount, and various optional integrated screen options like stretched displays. Two power input options are available, including 24VDC and 110VDC isolated power. The 2.5GbE LAN connection uses a lockable M12 X-coded plug interface for the highest speed transmission. For the ultimate wireless experience, high-speed 5G NR and Wi-Fi 6E are available for better data speeds.
Multiple Displays in Various Layouts
The vROK 3030 can receive data over Wi-Fi, then display that information on the built-in display and two additional screens through HDMI and DisplayPort connections.
Center and sides: Install the vROK 3030 above the center aisle with two additional screens, one on each side of the aisle by the doors.
Front and rear: For screens at the ends of the car, the VIP series extends HDMI over longer distances to screens at the front or rear of the car.
Above-door display: Create a long display by pairing the vROK 3030 with a screen of the same size (or with stretched display option).
Sleeping car: Use the vROK 3030 (PCAP touch option available) as the entertainment system, with an additional screen for toilet vacancy indicator, journey information, or the time.
Train operator display (TOD): Add a front bezel with customizable buttons for use as the human machine interface (HMI) for a driver console PC (by request)
Rethinking Passenger Information Systems
The vROK 3030 in-vehicle open frame panel PC is the logical choice for a streamlined and easy-maintenance PIS setup. It reduces the number of cables and shortens the remaining cables so train operators can get their PIS set up in the shortest time possible and with minimal fuss.
Main Features
Intel Atom® x6414RE quad-core processor, 9W
10.4" TFT LCD monitor with PCAP touch (optional)
IPS LCD, wide viewing angle, 1024 × 768 resolution
Sunlight readable capability: 1,200nits LCD brightness
LCD monitor, 1× HDMI, 1 × DP video outputs for triple displays
Open frame design for seamless integration into any enclosure
24VDC EN 50155, class OT3 (-30~70°C) certificated for railway
CVBS input for analog camera × 4 (works with optional capture card)
PoE supported for IP camera × 2 (optional)
Isolated CANBus 2.0 × 1
This article was originally published by NEXCOM International Co., Ltd..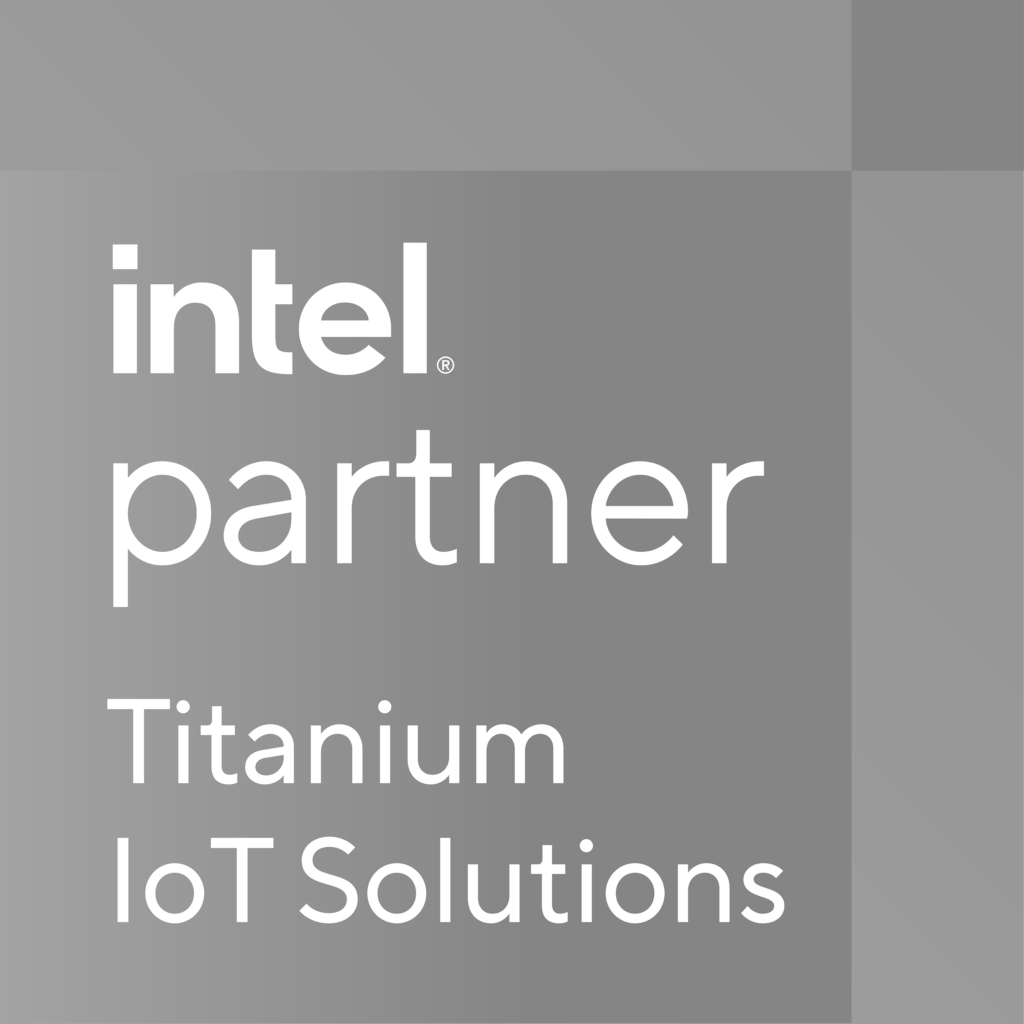 NEXCOM is a Titanium member of the Intel® Partner Alliance, as a top tier of the Alliance. Intel and more than 500 global IoT partners of the Intel® Partner Alliance provide scalable, interoperable Intel® -based technologies and solutions that accelerate deployment of intelligent devices and end-to-end analytics. Close collaboration with Intel and each other enables Alliance members to innovate with the latest technologies, helping developers deliver first in-market solutions.