NEXCOM's nROK 7270 and nROK 7271: Unleashing Streaming Limitations and Accelerating the Edge AI Inference for Safer and Smarter Railways
The Potent and Reliable Edge AI Platform Empowers the Hybrid Applications
The Game Changer – NEXCOM's nROK 7270 and nROCK 7271 meet the growth demand for vision-based obstacle detection by high-speed camera and edge AI inference, featuring the latest Intel® 12th/13th Gen Core™ CPU with performance hybrid architecture and Intel® Thread Director to meet the heavy video streaming, wireless/5G communication, AI model inference and integrated NVR/PIS applications for the rolling stock and railways markets. The nROK 7271 further distinguishes itself to provide power isolation for 24~110VDC and optional up to 3-sec protection against temporary voltage dips, a feature critical for scenarios where input voltage variability may shutdown the equipment. The system's power isolation design fortifies it against failure from fluctuations, thus enhancing its robustness still.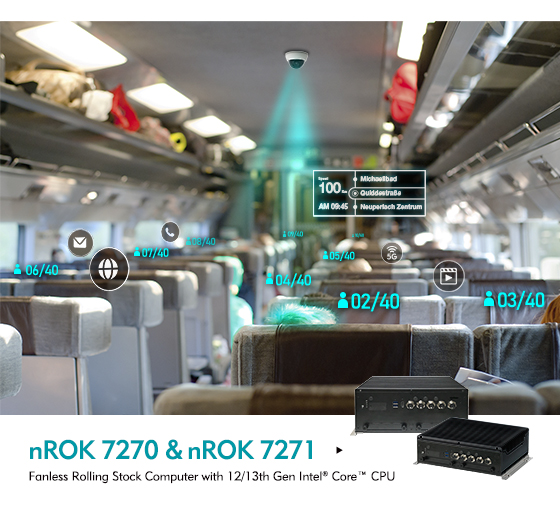 Omni Connectivity for Diverse Scenarios
Featuring the modular expansion design, the NEXCOM's nROK 7270 and nROK 7271 provide extensive array of interfaces to adopt to different scenarios. Passengers can rely on Wi-Fi connections to enjoy infotainment, while the surveillance system can connect to IP cameras using 1GbE and 2.5GbE with PoE+ LAN ports. The rolling stock's network backbones are built on 10GbE LAN ports, while outbound communication bridges leverage mobile networks and 5G technology. Network routing and SD-WAN capabilities optimize communication interfaces through trunking, and condition monitoring and signals control are linked to sensors through serial communication, enabling complex networking applications. Additionally, the expansions offer not only diverse interface types but also increased port quantity to maximize bandwidth and throughput.

On-road Safety Matters – Advancing AI Inference Engine
Empowered by mini-PCIe and M.2 Key E, the nROK 7270 and nROK 7271 can efficiently deploy pretrained image AI models with Google Coral and Hailo-8 M.2 AI Acceleration Module. These AI accelerators facilitate Edge AI inference for a wide range of applications, such as people counting, occupancy detection, pantograph inspection, track obstacle intrusion inspection, rail track condition monitoring, and sign detection and classification. DDR5 RAM improves speed, capacity, and doubles the memory bank, making the AI applications more efficient. These advancements elevate the standard of future transportation in railway systems, ensuring a safer and smarter railway environment.
The nROK 7270 and nROK 7271 embody NEXCOM's commitment to innovation, with powerful computing capabilities, modular expansion design, full-scale connectivity, and extensive Edge AI functionalities. These robust systems are built to withstand harsh environments and adhere to railways/EN standards, while also offering strong after-sales service, cementing NEXCOM's leading position in the industry. As smart railway initiatives continue to evolve, these systems remain the premier choices, taking railways applications to new heights. By embracing these technologies, we are not only envisioning the future of rail travel; we are riding towards it.
Specifications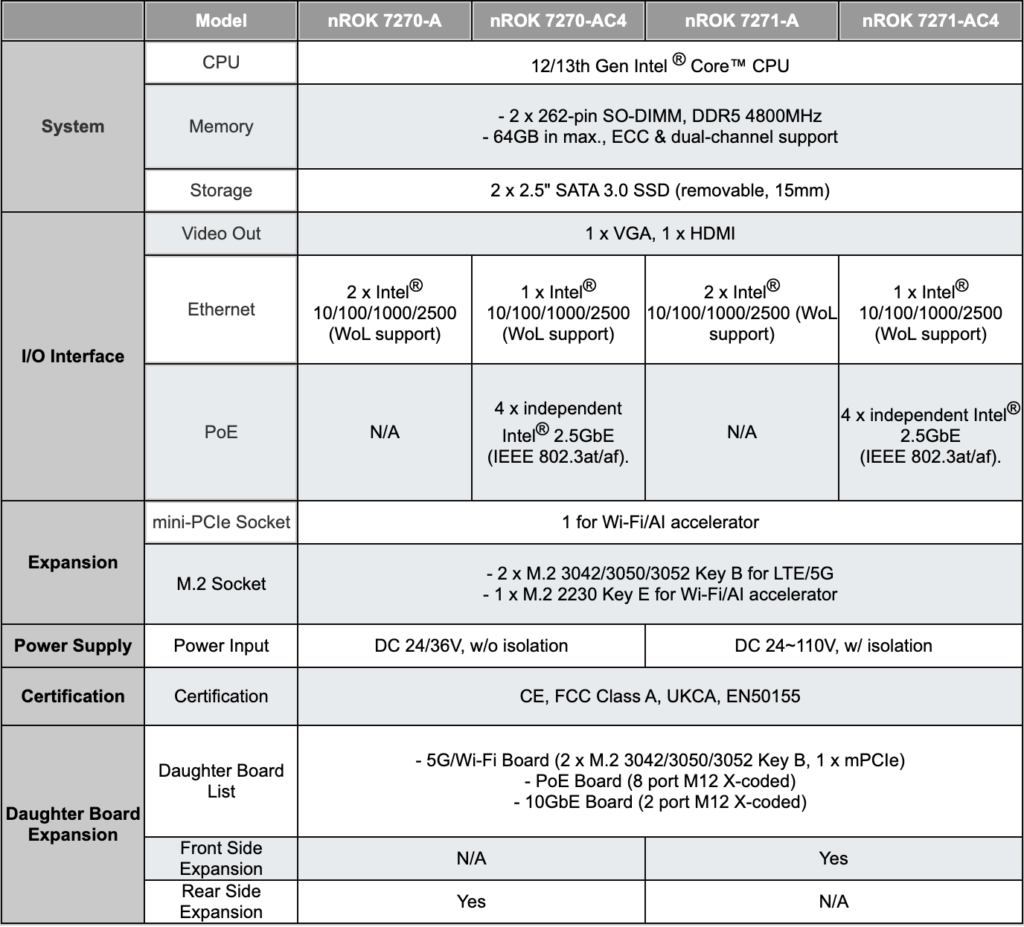 This article was originally published by NEXCOM.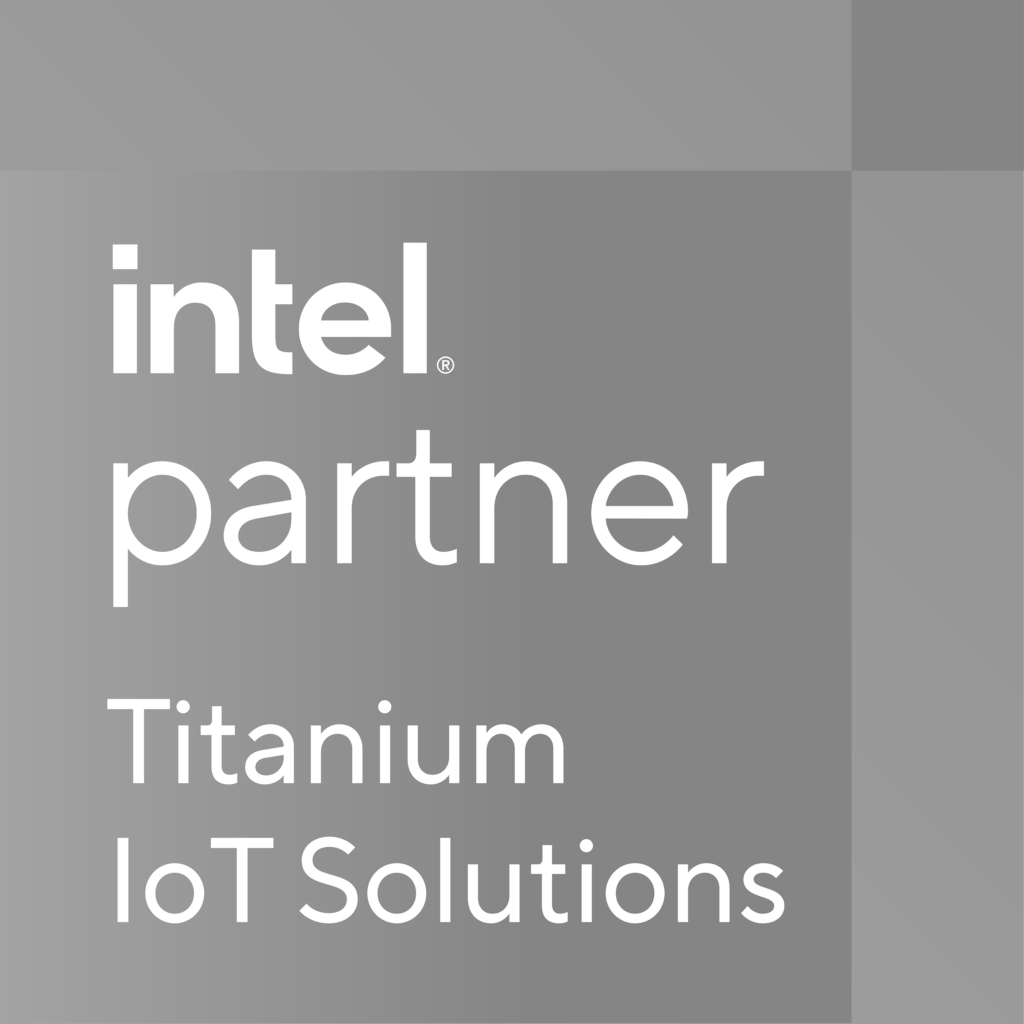 NEXCOM is a Titanium member of the Intel® Partner Alliance, as a top tier of the Alliance. Intel and more than 500 global IoT partners of the Intel® Partner Alliance provide scalable, interoperable Intel® -based technologies and solutions that accelerate deployment of intelligent devices and end-to-end analytics. Close collaboration with Intel and each other enables Alliance members to innovate with the latest technologies, helping developers deliver first in-market solutions.