Meet the nROK 7252 Railway Computer
You wanted more options, we delivered! In maximizing your valuable investments, our newest nROK 7252 railway computers bring you a greater variety of storage bays and power supply solutions (isolation and protection against temporary voltage dips), while maintaining the valuable connectivity and surveillance features and solid design of previous nROK models. Passengers can easily and effortlessly connect to the Internet and access infotainment via 5G networks, while drivers will appreciate the ability to monitoring onboard conditions through PoE video cameras. Especially built for suboptimal environmental conditions, the nROK 7252 series is a clear win for the railway computing world.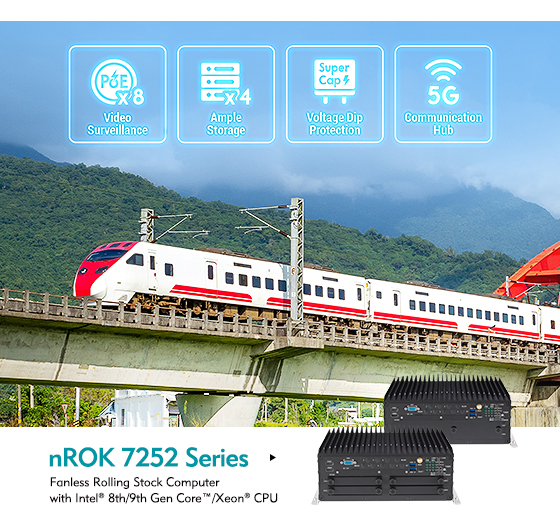 Choose from a Variety of Options
The nROK 7252 series comes in two models: the nROK 7252-AC8S and nROK 7252 WI2-C8S. Both models feature your choice of Intel® Coffee Lake S/Refresh 9th or 8th Generation Core™ or Xeon® CPUs. The 7252-AC8S comes with 24V/36V DC input and four 15mm SSD bays, while the 7252-WI2-C8S includes 24~110VDC power isolation, protection against temporary voltage dips, and two 15mm SSD bays.
Watch and Learn
Maintain safety and security while passengers board, disembark, and congregate in luggage zones, while performing tasks such as monitoring, recording, and big data analytics – all with video surveillance. Eight M12 X-coded 802.3 af/at PoE ports are available for PoE camera data transfer, ensuring reliability even in harsh environments. Ensure that your PoE railway computer has adequate storage with your choice of RAID 0/1/5/10 configured and hot swap HDD/SDDs. With 4TB hard drives, for instance, you have enough space to store data from eight full HD cameras, running 24 hours per day, for approximately 66 days! You can also utilize a mSATA drive for OS and VMS software and an SD memory card for video clip backup.
Faster We Go!
5G is all the buzz these days, which is why the 7252 series is 5G-ready! To increase bandwidth and reach higher speeds, three of five expansion slots are 5G/WWAN module-enabled, with another two available for Wi-Fi or LTE needs, creating your own cutting-edge communication hub. Each of the three 5G modules fit two SIM cards (for a total of six cards) to create network redundancy when one network is down. This also allows smarter selection: choose the connection with better latency and lower roaming costs. Having three independent WWANs online simultaneously also provides greater bandwidth.
Multimedia Array, Multiuse Displays
To keep passengers entertained and connected, the other two expansion slots are available for Wi-Fi modules for easy access to multimedia infotainment and the Internet. The modules combine perfectly with the three independent video outputs (two HDMI and one VGA) so that passengers can view local entertainment, news, and weather reports, while drivers can monitor railway conditions via live cams. This also means the perfect business opportunity to display advertisements and commercials and collaborate with local tourist bureaus to present information about points of interest. In addition, the mobile communication hub's serial port can link to LED displays to display journey information.
Thoughtful Protection and Construction
The nROK 7252-WI2-C8S features an isolation kit of 24 to 110 VDC input with supercaps to safeguard your railway computer against sudden power surges, as well as uninterrupted protection for three seconds when encountering unexpected voltage dips. All models are constructed with higher-quality aluminum instead of iron, and include a thermal dispatch system with copper pipe for more efficient thermal conductivity and uniform heat dissipation. Finally, the nROK 7252 is also environmentally friendly and ruggedized for suboptimal conditions, having been certified to both EN50155 and MIL-STD-810G standards. The 7252-WI2-C8S even features an anti-vibration design for data storage.
Main Features
Intel® Coffee Lake S/Refresh 8th/9th Gen Core™/Xeon® LGA1151 socket-type CPU
Six SIM cards + three WWAN modules support
LTE/5G WWAN module support
2/4 x External SSD for RAID 0, 1, 5, 10 (compatible with 15mm disk)
2 x mSATA (occupied mini-PCIe slot)
3 x mini-PCIe + 2 x M.2 socket expansion
1 x SD card for exporting and backing up data
Three video outputs, one VGA and two HDMI
Wide voltage input 24~110VDC (w/ isolation) (nROK 7252-WI2-C8S)
Supercaps design, with up to 3-sec protection against temporary voltage dips (nROK 7252-WI2-C8S)
EN 50155, class OT4 conformity
This article was originally published by NEXCOM.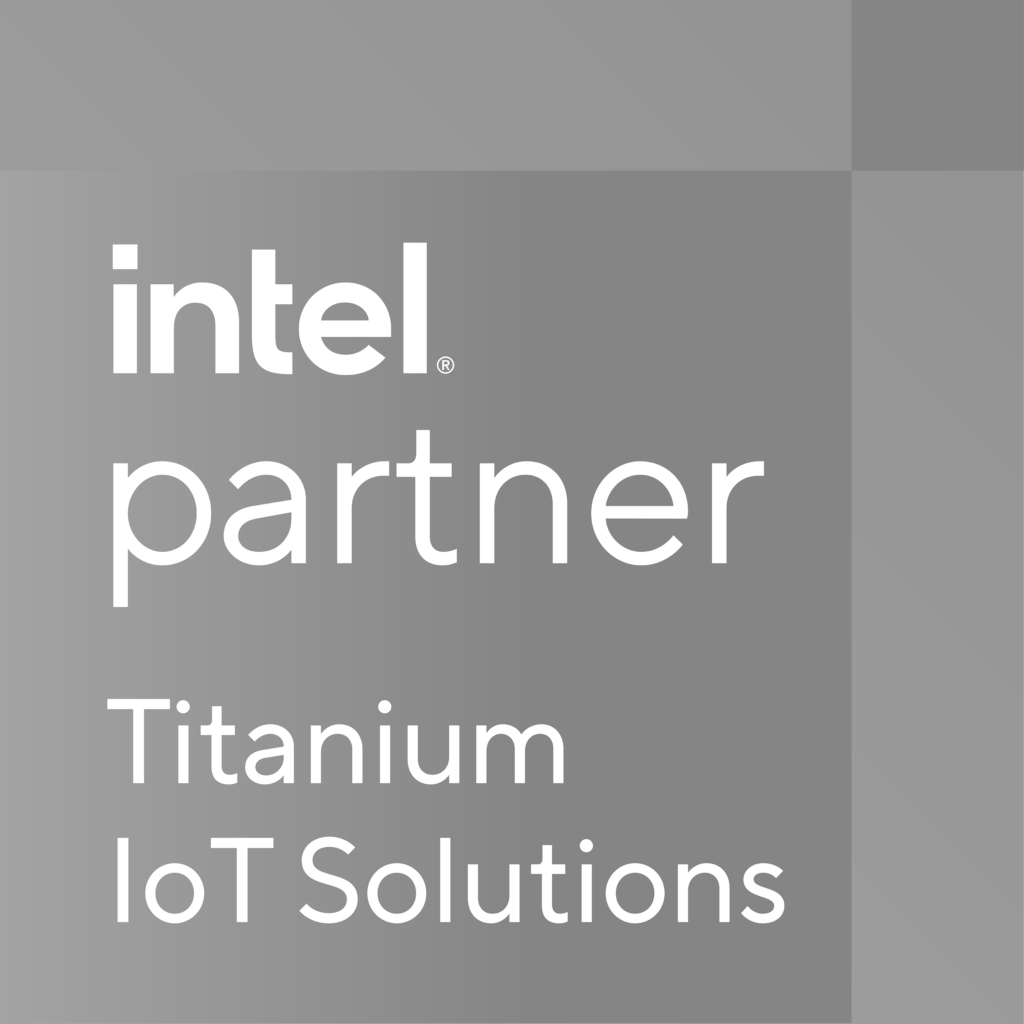 NEXCOM is a Titanium member of the Intel® Partner Alliance, as a top tier of the Alliance. Intel and more than 500 global IoT partners of the Intel® Partner Alliance provide scalable, interoperable Intel® -based technologies and solutions that accelerate deployment of intelligent devices and end-to-end analytics. Close collaboration with Intel and each other enables Alliance members to innovate with the latest technologies, helping developers deliver first in-market solutions.