Virgin Trains USA Begin Construction of Orlando Expansion
In January 2017 Brightline began operating rail services in Florida, USA. In November that year Brightline and Virgin Group formed a strategic partnership. Brightline rebranded as Virgin Trains USA with plans to continue growing the country's first privately funded intercity passenger trains in more than 100 years.
Fast forward to April 2019 and Virgin Trains USA announced progress on funding for its plans to expand its services northwards, to Orlando. The project would include 170 miles of new track, terminating at a modern intermodal facility in the new South Terminal of Orlando International Airport (MCO). Orlando International Airport is the busiest in Florida and the tenth-busiest in the United States (2018). The company said construction would start right away and be completed by 2022.
Virgin Trains USA Contractors for Orlando Expansion
Virgin Trains USA has now announced the contractors for its expansion to Orlando from South Florida. The total private investment for the project amounts to 4 billion USD (3.58 billion euros).
The chosen contractors are:
Hubbard Construction Company
Wharton-Smith Inc.
The Middlesex Corporation
Granite Construction Company
HSR Constructors
Patrick Goddard, President of Virgin Trains USA, said:
"Connecting Central and South Florida will bring thousands of jobs today and by modernizing infrastructure, we will strengthen Florida's economy for decades.

"For a project of this scope and magnitude, a world-class construction team has been assembled to undertake this tremendous assignment and we congratulate them helping us make history."
Dubbed Phase 2 – Phase 1 having been the original construction between West Palm Beach and Miami to the south – the project is divided into four zones. Construction in Zone 1 and Zone 2 begins today. These zones contain Orlando International Airport and the Virgin Trains Maintenance Facility. The company also says that construction in Zone 3 and Zone 4 will begin imminently.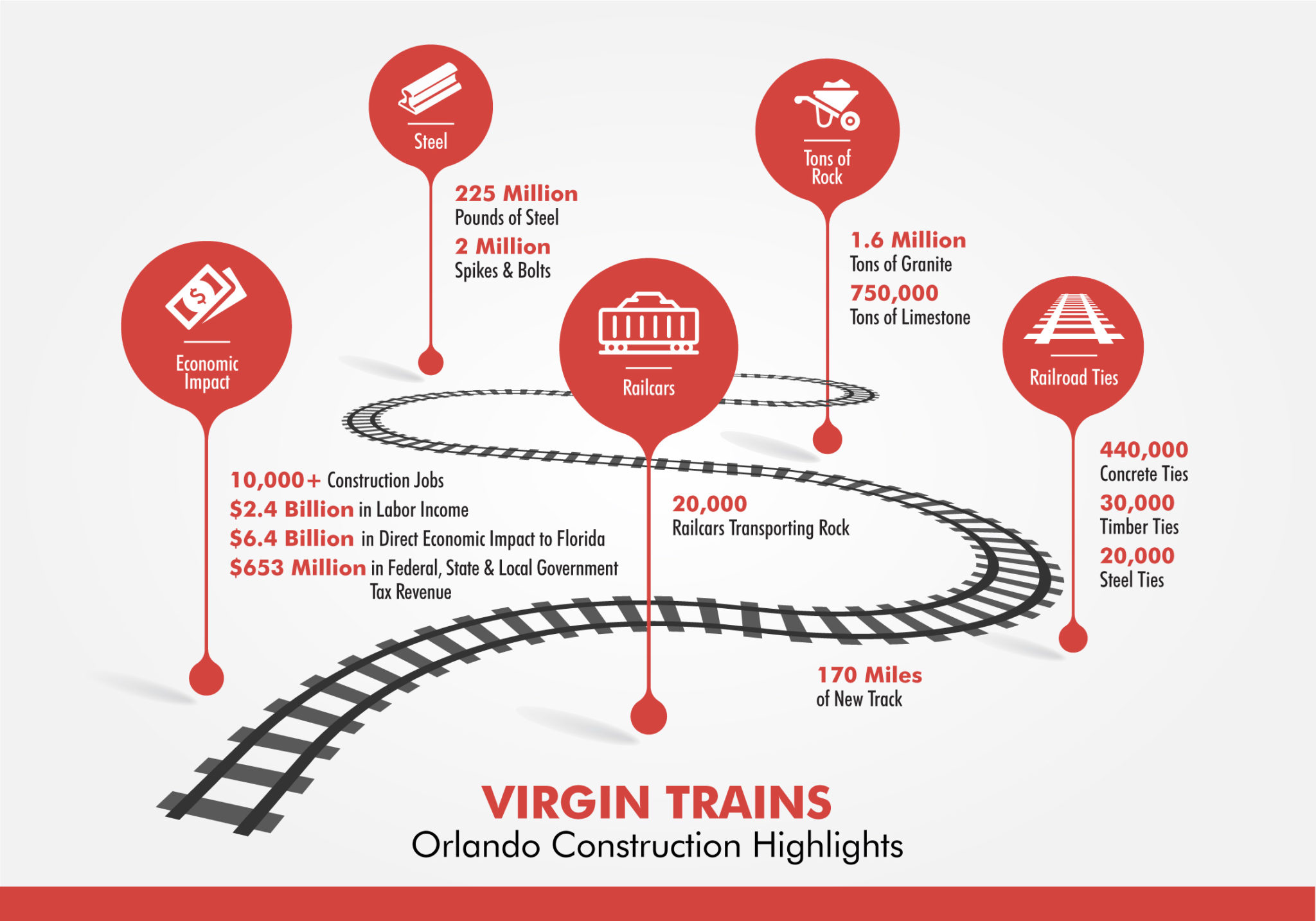 Orlando Rail Expansion Stats
In order to bring about this new rail link to Orlando International Airport, the contractors will have to lay 490,000 ties (sleepers) and transport 2.35 million tons of granite and limestone in 20,000 railcars.
Over the next three years they will also use two million spikes and bolts. Virgin Trains USA says
2 will generate in excess of 10,000 jobs and bring in more than 650 million USD (582 million euros) in federal, state and local tax revenue.
Zone 1
Zone 1 is roughly 70 acres in size. Located one mile south of the airport, Hubbard Construction Company and Wharton-Smith Inc. will oversee works here.
Hubbard Construction Company is based in Central Florida. It will perform land clearing, mains relocation and mass earthworks. These works will commence in May 2019.
Wharton-Smith Inc. is also based in Florida. Tasked with design-build and construction management, it will start work on the project in early 2020.
Zone 2
Zone 2 is the 3.5-mile section in Orlando International Airport.
Middlesex will work in this zone and deliver land clearing works; it will also construct drainage structures and pump stations, relocate utilities, perform excavation works, build rail bed embankments, trenches and bridges. It will further lay tracks and install signalling equipment and reconstruct one of the airport's interchanges.
Zone 3
Zone 3 is a stretch of rail running for around 35 miles. It follows along Highway 525 between the airport and Cocoa. Granite Construction Company will be responsible for around 300,000 cubic yards of excavation, 5.4 million cubic yards of embankment fill, 865,000 square feet of mechanically stabilised earth retaining wall, 100,000 lineal feet of piling, 18 new bridges, three underpasses, drainage installations, and track and signalling installations. It will also perform 60 track miles of class VII rail construction.
Zone 4
Zone 4 involves upgrading 129 miles of existing track from Class IV to Class VI, which would allow services to run at speeds of up to 110 mph.
HSR Constructors will perform most of the work in this zone. They will move 56 miles of existing track and build 100 miles of new Class VI track. The company will also rehabilitate 28 miles of existing sidings, install around 40 new turnouts and crossovers and relocate a further 40. In addition, HSR will relocate fibre duct parallel to the ROW and install new signalling systems, including Positive Train Control (PTC). It will construct the second main track, perform modifications / replacement of surfaces and upgrade crossing signal protections at 155 sites as well as replace 19 bridges.
Virgin Trains USA also has plans to expand to Tampa, in West Florida. It further intends to build and operate a new express service that would connect Las Vegas and Southern California.
Also read: