Railway-News Choice: Rolling Stock Highlights at InnoTrans 2018
One of the key attractions at Berlin Messe is its Outdoor Display with 3,500 metres of track on which to display locomotives, multiple units, wagons, road-rail vehicles and more. We've compiled a list of some of the rolling stock highlights at InnoTrans 2018 for you to watch out for:
Locomotives
Prima H4 
Outdoor Display 3/400
Manufactured by Alsom
Highlight: excellent energy-efficiency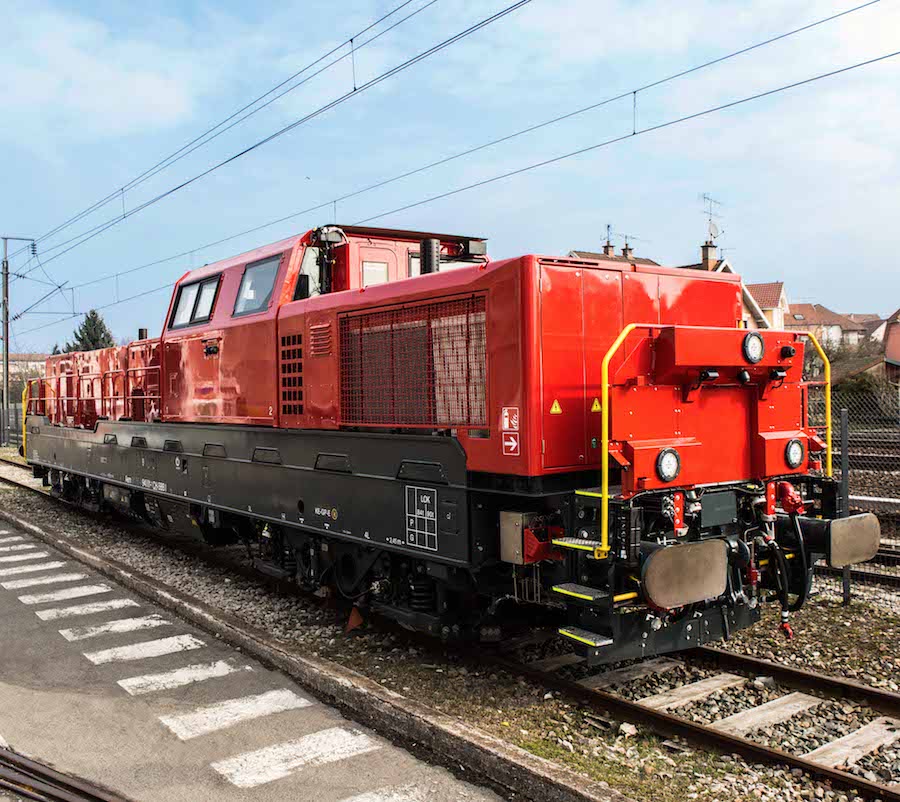 The Prima H4 locomotive is part of a family of diesel and electric locomotives built by Alstom. Its predecessor, the H3, was first showcased at InnoTrans 2014. The Prima H4 is a shunting and works locomotive with a BoBo axle configuration that has a range of energy options available, from hybrid (battery and diesel engine) to bi-mode (catenary and diesel engine) and bi-mode battery (catenary and battery). The Prima H4 also has improved fuel efficiency when operated just in diesel mode. In its single-engine configuration its energy consumption is 15% lower than that of a traditional shunting locomotive.
Alstom was awarded a contract for 47 Prima H4 locomotives by SBB Infrastructure (Switzerland). The locomotive boasts a top speed of 120km/h and is fitted with ETCS. SBB Infrastructure is responsible for maintaining 3,000km of track. The Alstom Prima H4 will help the company reduce its carbon emissions by up to 6,000 tonnes per year, according to SBB Infrastructure Member of the Managing Board Désirée Baer.
The Prima H4 locomotive on display at InnoTrans 2018 will be one of the ones to be supplied to SBB Infrastructure, which are set to enter operation in 2019. There are currently 2,800 Prima locomotives in service around the world. Prima locomotives are used for heavy haul, freight and passenger operations as well as shunting and trackwork.
Push-Pull Trainset DB 102
Outdoor Display 6/400
Manufactured by Škoda Transportation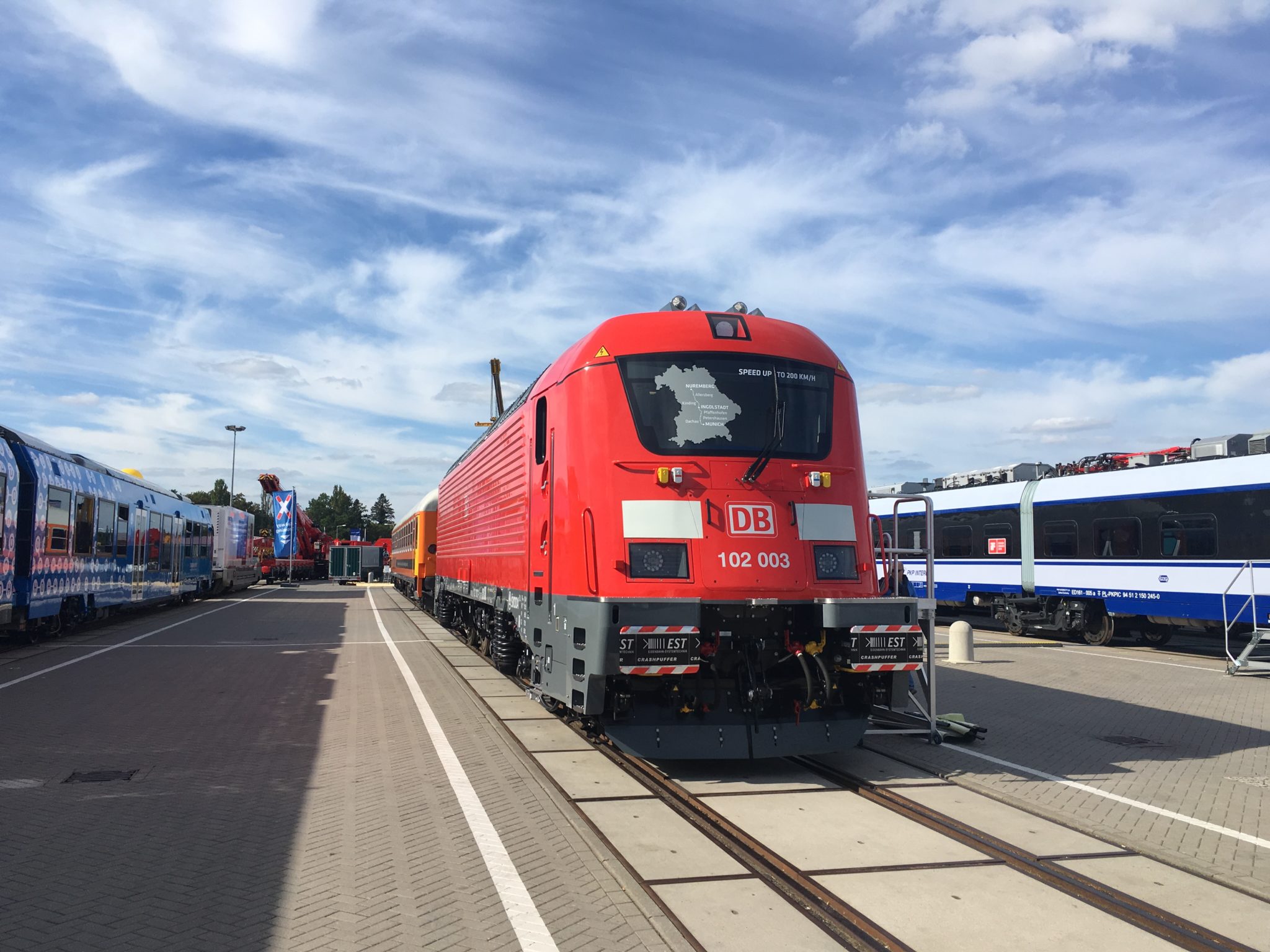 Highlight: Czech company Škoda Transportation has designed a push-pull trainset for Deutsche Bahn to serve the Nuremberg-Ingolstadt-Munich line in Bavaria. The trainset will consist of a driving car, four intermediate cars, the end car and the latest Emil Zátopek electric locomotive (Škoda 109E3). This locomotive has a top speed of 200km/h but will run at a maximum of 189km/h on the designated route. It is compatible with both AC and DC catenary lines.
Each unit will have seating for 676 passengers as well as storage for 37 bicycles.
One special feature of these trains is that they have a pressure-tight vehicle body allowing them to pass each other in tunnels at speeds of up to 300km/h. The locomotives have been awarded the European certificate TSI (technical specifications for interoperability) High-SpeedRST. More than 95% of the components the locomotive is made of are recyclable.
Škoda Transportation won the tender for six push- pull trainsets in 2013. The trainsets underwent testing in Velim, Czech Republic, and are awaiting introduction to the 171km Nuremberg-Munich high-speed line – part of the Trans-European Transport Networks (TEN-T) – this year. This locomotive could first be seen at InnoTrans 2016.
Deutsche Bahn Train of Ideas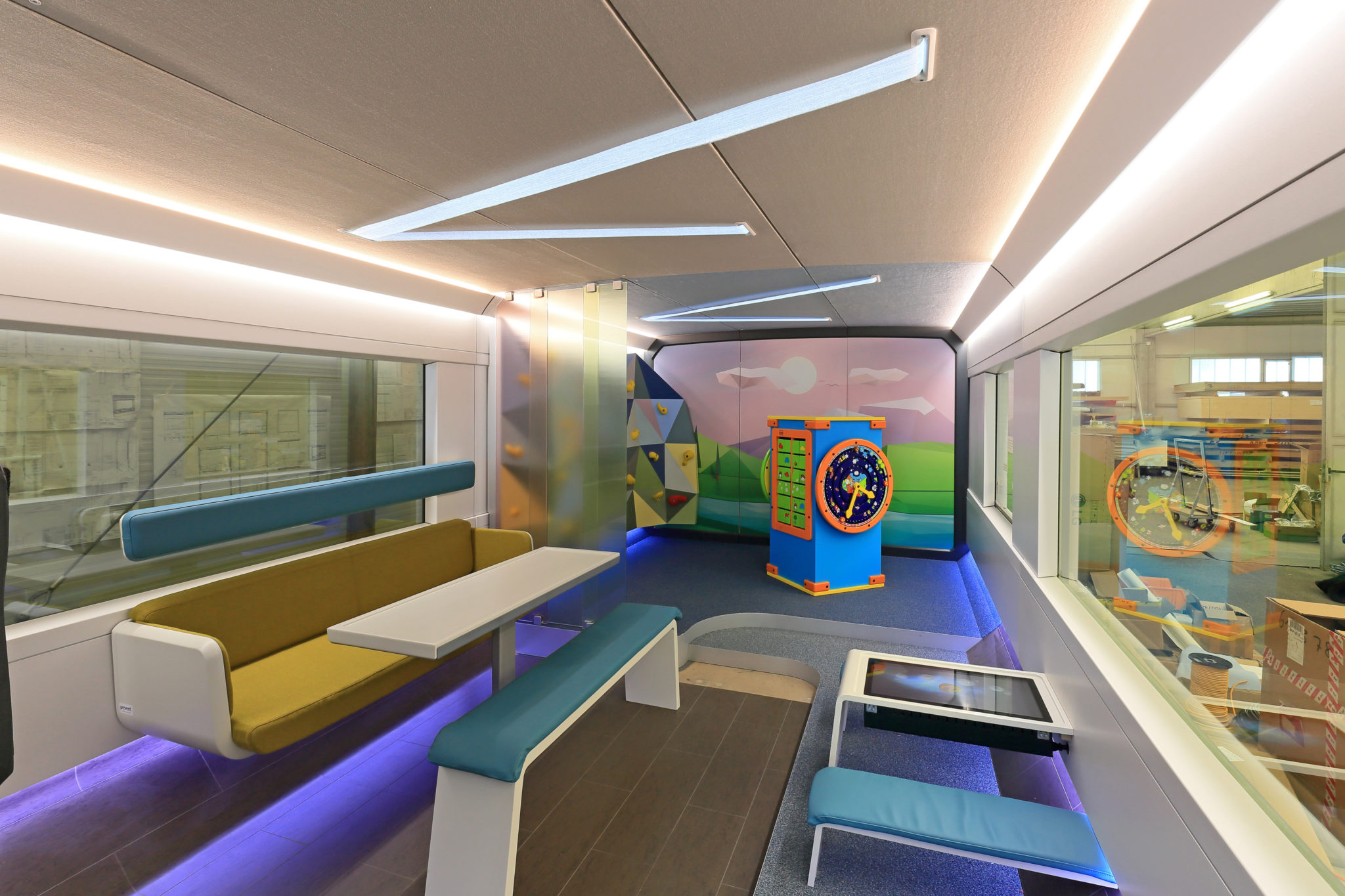 Highlight: This walk-in full-scale model of a double-deck coach – 27m long, 3m wide and 5m tall – intends to show us today what rail travel could look like in the future. How could commuters use their time on the train more effectively? Could they perform tasks they otherwise struggle to find the time for? Could they, for example, get in their workout featuring a digital personal trainer while on their train journey home? Or what about getting some rest in a special power napping cabin? What about catching up with the latest news or sporting events in a public viewing area? Passengers travelling with children could enjoy designated family and children's areas. Those wishing for some peace and quiet to do some work can book a single- occupancy work module. Areas for working, relaxing, dining, fitness and family and all of them independently combinable to create the perfect train for every purpose.
The Train of Ideas aims to provide inspiration to those ordering trains to encourage them to be innovative and customer-focused in their choices.
DB Regio first introduced the Train of Ideas together with the Bayerische Eisenbahngesellschaft (BEG) in Nurember in November 2017. The BEG's spokesperson Dr Johann Niggl, commented that commuter behaviour in Germany was rapidly changing and rail services would have to adapt to that, especially in light of the autonomous vehicles of the future.
Electric Multiple Units
ÖBB: Cityjet TALENT 3
Outdoor Display 8/400
Manufactured by Bombardier
Highlight: seasonal bike storage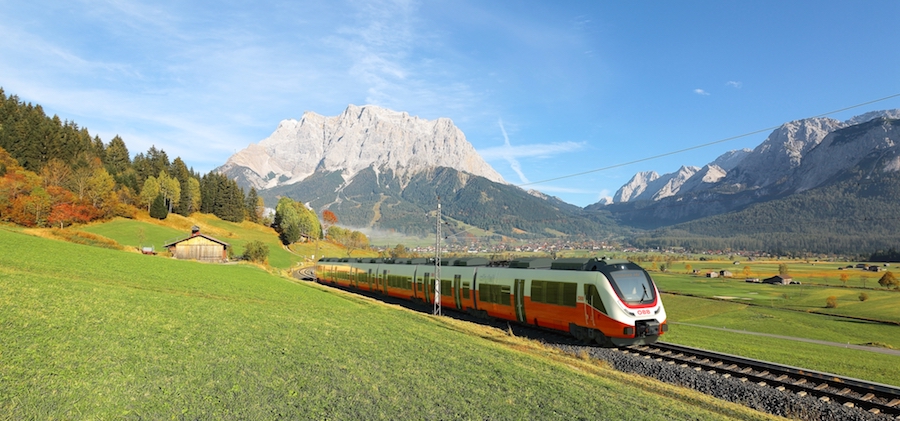 This six-part EMU, manufactured for ÖBB to run in the Austrian state of Vorarlberg as well as neighbouring countries such as Italy, Switzerland and Hungary starting in 2019 has been very well thought through. One of its main features for passengers is that it comes in two seasonal versions – a summer configuration, which features increased bicycle space (up to 53) and a winter configuration with more seating and storage for snowboards and skis. In fact, the summer configuration will contain an entire carriage just for bicycles. ÖBB requested that Bombardier fit bike racks in this carriage that did not just grip the front wheel as this can cause damage.
In total the Cityjet TALENT 3 will be 104.5m in length with seating for 304 people in winter and 276 in summer. Austria has seen a great increase in rail use and as such there has been a trend towards longer trains with more seating in regional trains. These Cityjet TALENT 3 units will be the longest electric multiple unit in the Austrian Federal Railways fleet. One feature the TALENT 3 is capable of is that it can be combined with Bombardier's PRIMOVE lithium-ion battery system so that non- electrified sections of track can be bridged without having to resort to diesel fuel. This system will not be installed in the Cityjet EMUs but can easily be retrofitted if operators wish. The first TALENT 3 that will run using this battery system will be in southern Germany. At InnoTrans 2016 Bombardier was handed a letter of intent for innovation funding worth four million euros by the German transport minister Alexander Dobrindt to support the development of the TALENT 3 equipped with the PRIMOVE battery.
The TALENT 3 is also fitted with ETCS and has been approved for operation across Europe, thanks to its compliance with TSI and EN regulations.
Rhine-Ruhr Express
Outdoor Display 2/400
Manufactured by Siemens
Highlight: innovative window coatings for better phone signals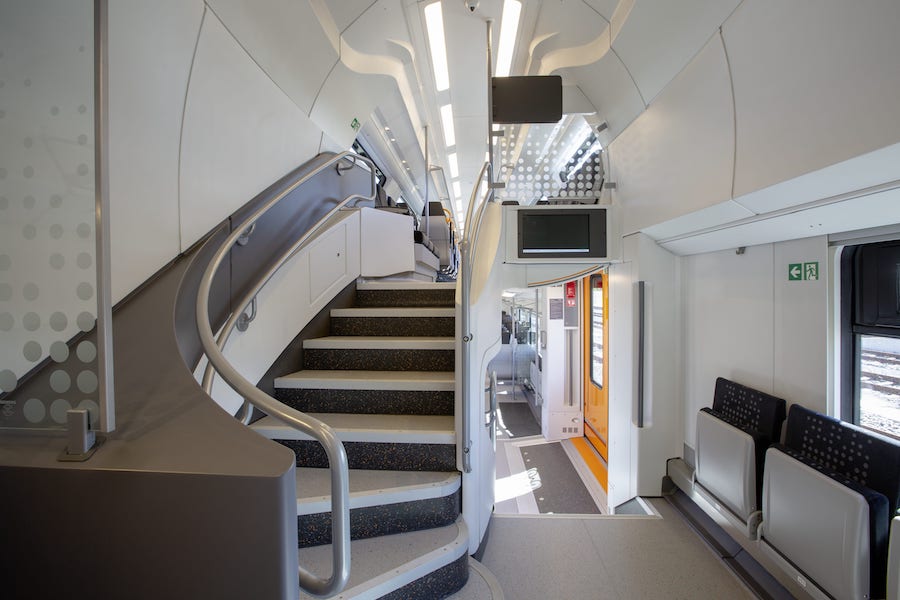 The Rhine-Ruhr Express (RRX) is a set of works to improve the rail network in Germany's busy Rhineland and Ruhr Area regions centring around the cities of Cologne, Dortmund, Duisburg, Essen, Dusseldorf, Bonn and Koblenz. As part of these upgrade works, the relevant transit associations – Rhine-Ruhr (VRR), Rhineland (NVR), Westphalia- Lippe (NWL), Rhineland Palatinate North (SPNV- Nord) and North Hesse (NVV) – Siemens was awarded a contract to deliver 82 trains along with a maintenance contract for the full 32-year intended operating cycle of the fleet.
The first eleven RRX trains will enter service gradually when the new timetable is introduced in December 2018. Initial services will begin on the RE11 route between Dusseldorf and Kassel, which will be operated by Abellio Rail NRW. The other operator participating in the RRX route network is National Express Rail.
Based on Siemens's Desiro trains, one of the key features of these new Desiro HC EMUs is their windows: not only are they large, allowing in a lot of light and providing passengers with an exceptional view, they will also boast a frequency- selective window coating – a world first – in order to improve phone reception by up to 50 times. The problem with regular windows is that they reflect all kind of electro-magnetic waves. According to Siemens this causes the carriage to act like a Faraday cage, and in high-speed trains this effect reaches 99.9%.
Another feature is that the Desiro HC will combine double and single-deck cars, with each multiple units consisting of four cars. The two end cars will be single-deck, while the two middle ones will be double-deck. The total length of these RRX trains will be 105m and have a seating capacity of 400. The RRX trains will be able to reach their top speed of 160km/h very quickly, which the RRX project director at Siemens says will make it easier for the trains to keep to the timetable.
Bi-mode Multiple Unit
FLIRT BMU for Greater Anglia
Outdoor Display 10/410
Manufactured by Stadler
Highlight: the bi-mode drive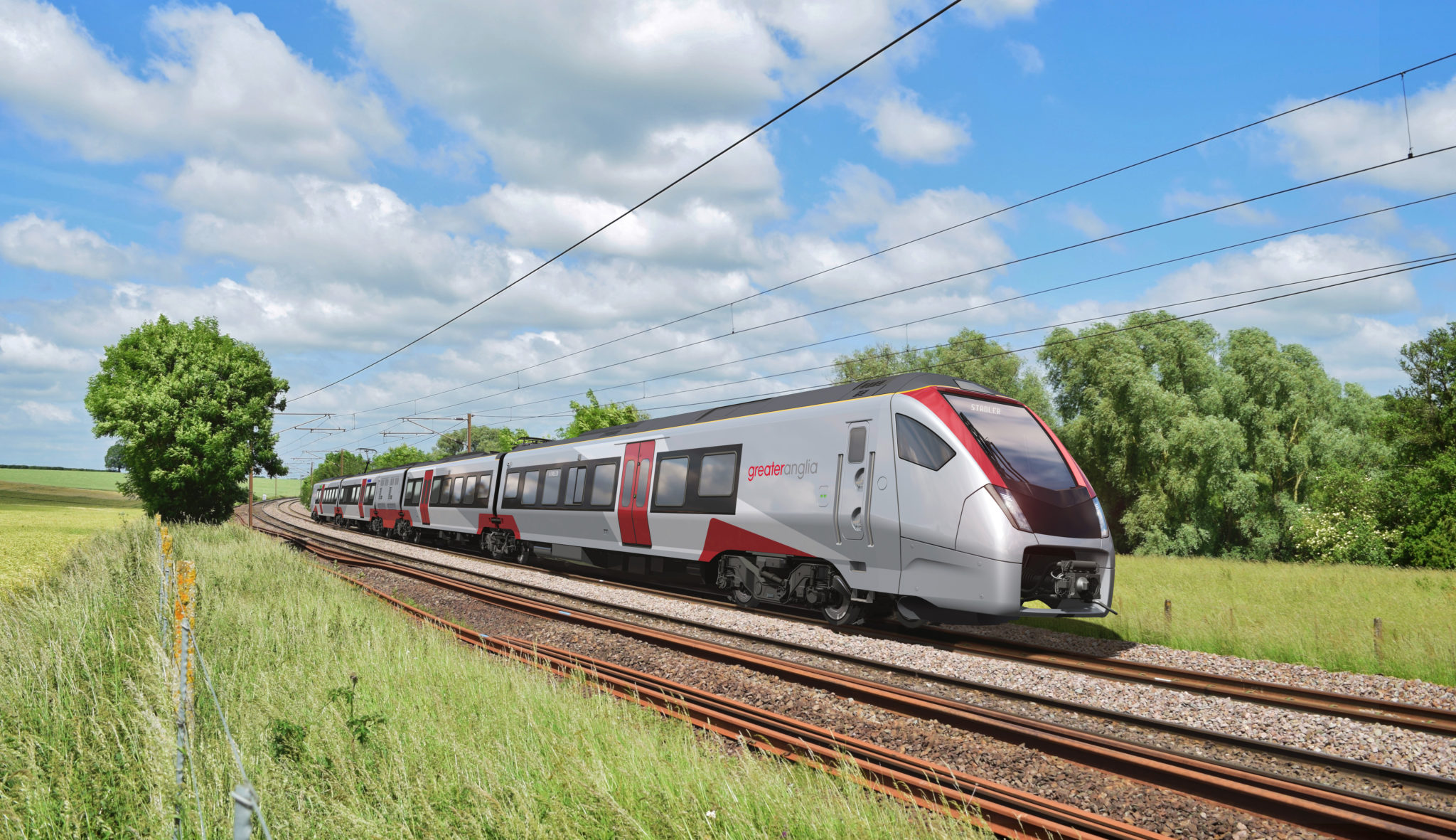 Just after InnoTrans 2016 Stadler won its biggest contract in the United Kingdom to date, to supply 14 three-car and 24 four-car bi-mode FLIRT trains (Class 755 – bi-mode) as well as 20 twelve-car electric multiple units. The three-car units will have seating for 167 and the four-car units for 229 passengers. Overall, Greater Anglia will increase its seating capacity by 20%. These trains will replace the older rolling stock servicing Greater Anglia's regional and intercity routes as well as its Stansted Express fleet (Class 745 – electric). They are being built in Bussnang, Switzerland but will be maintained in England.
The bi-mode nature of these trains is an innovative solution, allowing rolling stock to operate smoothly on lines that are not fully electrified yet or where it is impractical to do so. A bi-mode option is more environmentally friendly than a fully diesel-powered train. The train can operate either in electric mode or in diesel/electric mode; the diesel engines fitted on these trains are quiet and meet the stringent IIIB (US EPA Interim Tier 4) standards for emissions.
Delivery of these 58 trains will begin in 2019. Energy produced while braking under an electric overhead line is fed back into the overhead wires for use by other trains.
Stadler will give a presentation of its FLIRT BMU at the Outdoor Display 10/410 on 20 September at 3pm.