United Wagon Company Awarded Q2 Quality Status by Deutsche Bahn
Deutsche Bahn has approved United Wagon Company (UWC) as a potential supplier of freight cars and assigned it Q2 quality status based on the results of a comprehensive audit.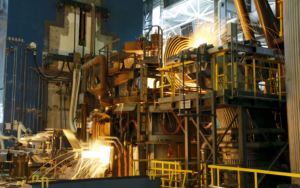 Deutsche Bahn reviewed UWC's quality management system, All-Union Research and Development Centre for Transportation Technology (VNICTT) and Tikhvin Freight Car Building Plant (TVSZ). The audit covered 23 aspects of UWC's business, including the processes for the design and production of new freight-car models, quality assurance, warranty and service maintenance.
All aspects were awarded scores on a 100-point scale. 18 of the 23 aspects received scores of 90–100, and 5 received scores of 80–90 from Deutsche Bahn.
Jens Baselt, Quality Engineer at Deutsche Bahn, said:
"We are happy to welcome UWC as our potential vendor. DB has been seeking partners that meet our criteria in terms of quality, security of supplies and pricing policy all over the world. The audit conducted at UWC let us expand our pool of potential vendors of freight cars and their components. During the audit, we saw a highly motivated company with modern advanced infrastructure. I feel that UWC meets every prerequisite for precise implementation of potential projects with Deutsche Bahn. We wish that the existing positive energy and the quality of UWC's products become a solid basis for our successful partnership."
The Tikhvin Freight Car Building Plant was also awarded certification in accordance with the EN 15085 Welding of Railway Vehicles and Components European Standard. The audit was completed by TÜV Rheinland.
TVSZ prepared for this audit by providing its employees with additional training in certifiable activities, including welding, non-destructive testing and quality management. This certification credits the assessed UWC employees with the status of international specialists in these roles.
Maxim Kuzemchenko, Deputy CEO for Business Development at UWC, said:
"We view Deutsche Bahn as a strategic partner and look forward to successful cooperation. When we agreed to the audit, we understood that we would be tested to the most stringent quality standards in the railway industry. But we also knew that UWC can compete as an equal in international markets and deliver the range of products that operators need at high levels of quality. The status of a Q2 supplier for potential freight railcars projects gives independent confirmation of this fact. We hope that Deutsche Bahn's assessment will serve as a signal to the whole of the European market. UWC is now the only freight car manufacturer outside the European Union which has the right to supply cars to companies in Europe."
The combined achievements of becoming a Q2 supplier to Deutsche Bahn and receiving EN 15085 welding certification increase the opportunities available to UWC in the European market.