Russia: TikhvinChemMash Sells 20 Tank Cars to GATX Rail Vostok
The TikhvinChemMash freight car plant, a subsidiary of United Wagon Company, has sold 20 15-6900 model tank cars to GATX Rail Vostok for the transportation of caustic soda and other chemical substances.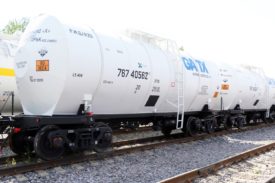 The volume of each car is 54.5 m3 and features a bogie with an increased axle load to provide an additional 5 tons of cargo capacity. This aspect of the design reduces the number of cars required per train.
The service life of the model is 32 years and it has an extended overhaul period which reduces costs over its life-cycle.
A representative of GATX said:
"One of their most attractive features is the large overhaul period, which will provide savings on maintenance throughout the life of the car. Purchasing additional fleet with an increasing axle load cars is in line with our local strategy."
The design of the tank cars, which are equipped with a thermal insulation system, also allows the cargo to remain in a liquid state at negative ambient temperatures for up to 10 days. This facility reduces the time required to drain the cargo and also decreases the amount of energy required to heat it.