Brightline and contractor Lemartec have topped off Aventura station in Florida with the placement of a 131-foot-long pedestrian skybridge.
This is the final piece of the Aventura station's structure and connects the station to the platform.
The 68-tonne bridge was put into place on to two 41-foot-high vertical transportation towers in an hour and a half.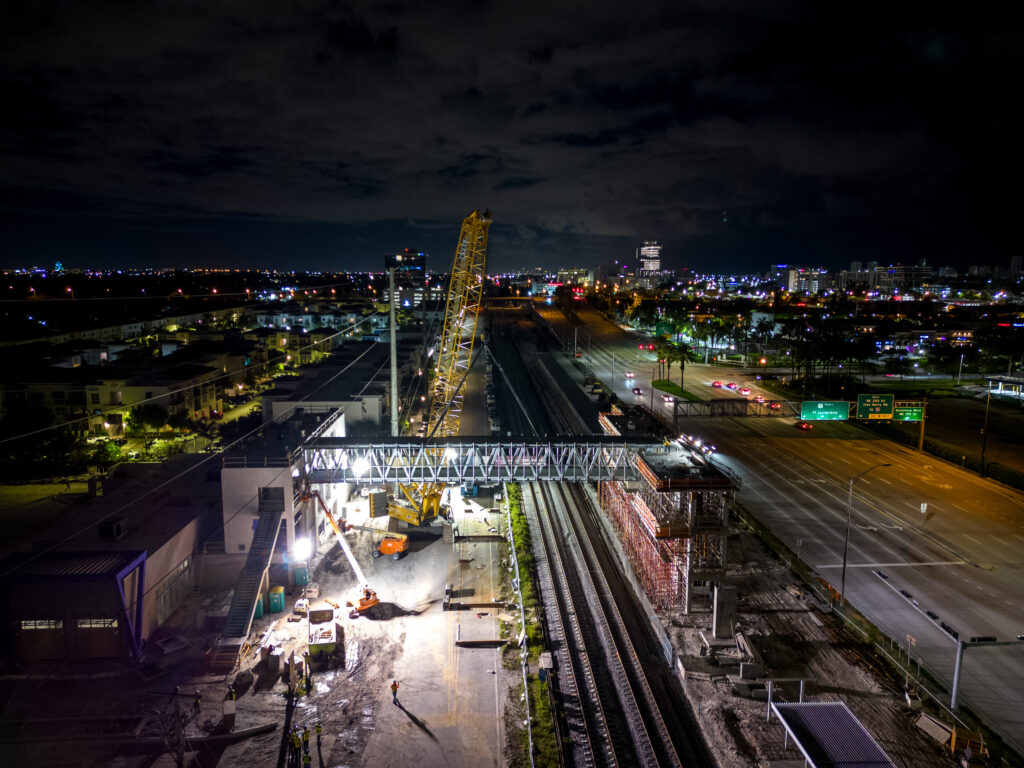 "A tremendous amount of effort and energy went into what culminated in the lifting and setting of Aventura station's pedestrian skybridge.
"With the help of Miami-Dade County and Florida East Coast Railway, Brightline and Lemartec were able to safely facilitate the coordination of this top off ensuring roads and railroads were clear."
In October 2019, Miami-Dade County's Citizens' Independent Transportation Trust (CITT) approved the use of 76.7 million of surtax USD (78.67m EUR) for the development of this project, which will serve the Northeast Corridor.
This is one of six corridors in the Strategic Miami Area Rapid Transit (SMART) Plan.
Once completed, Aventura will be Brightline's fourth station in Florida, connecting travellers in Miami, Fort Lauderdale, Boca Raton and West Palm Beach.
Orlando will follow next year.
The station, platform and vertical towers feature 34,000 square feet of space and an 860-foot centre loaded platform located within the Florida East Coast Railway and Brightline right-of-way.
It will include Brightline's autonomous MRKT, SMART and PREMIUM lounges and Brightline+ services. After passing through security, passengers will be able to access the skybridge from the passenger lounge via escalator or lift.
The site also features 240 parking spaces and a bus drop-off for Miami-Dade Transit passengers.
Once services begin before the end of the year, Brightline will provide a frequent, express service from the Aventura station to downtown Miami during the peak morning commute period and a return service during the evening rush hour period.
Trip times between the two will be approximately 15 minutes.
Miami-Dade County will offer subsidised fares for a percentage of riders between Aventura and MiamiCentral.
"It's great to see the Aventura Brightline station closer to completion.
"This commuter stop will not only help to alleviate road congestion but will connect a key community to four major downtown communities in South Florida and Orlando in 2023.
"The impact of this connectivity is vital for northeast Miami Dade County and its residents."