Two Unipart Rail Leaders Named Everywoman Awards Finalists
Two Unipart Rail leaders have been named as finalists for awards celebrating remarkable women in the transport and logistics sector.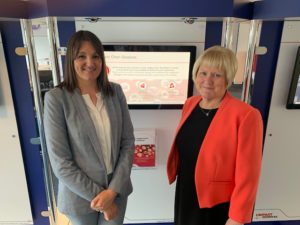 Karen Beardsley and Kelly Pepper are shortlisted in the Supply Chain category at the 12th annual Everywoman Awards (Transport & Logistics), to be held in June.
Managing Director of Unipart Rail Supply Chain Solutions, Karen Beardsley is a finalist in the Supply Chain Award Leader category.
Karen was responsible for the development of a comprehensive new service offering to customers, resulting in much new business for Unipart Rail all over the world.
Commercially successful and continually seeking to improve propositions with digital technology, Karen is also passionate about developing people, supporting the growth of her team with the skills to take up postings overseas. Karen is one of two female Managing Directors across Unipart Rail's three business units and a role model to all employees.
Head of Business Development Kelly Pepper is a finalist in the Supply Chain Award Above & Beyond category.
Over a three-year period, Kelly led her team and built external relationships to increase sales for her business unit up to 35 times its former level. Her credibility in the marketplace led to Unipart Rail being highly commended at the Railway Industry Innovation Awards. When a major customer went in administration, Kelly worked extremely closely with the customer to secure continuity of their supply chain and ensure their projects avoided failure.
Kelly coaches other women in the business, is always ready to recognise achievement and consistently finds ways to provide support to her team. She successfully balances her role and its extensive travel with her home life raising two children.
Maxine Benson MBE, Co-Founder of everywoman, said:
"Women account for only 18% of the overall transport and logistics industry, which is a cry for urgent change to be made, considering the value they add. Encouraging women to pursue senior positions is crucial for the growth of the sector."

"Building the future of logistics means highlighting the role of technology and emotional intelligence in more creative job roles. This proves how many opportunities are also out there for the younger generation. Our finalists this year are already occupying these roles and their success stories will inspire others to do the same".
Read more about the awards here.