Transmashholding Unveil St. Petersburg Metro Train Design
Transmashholding have unveiled their new Class 81-722.1/723.1/724.1 metro train for the St. Petersburg Metro. The train will operate on Line 1 of the city's metro. The ceremony was part of the of International Innovative Forum of Public Transport "SmartTRANSPORT" which took place in St. Petersburg on 25–28 May 2016. It was attended by St. Petersburg Governor Georgiy Poltavchenko.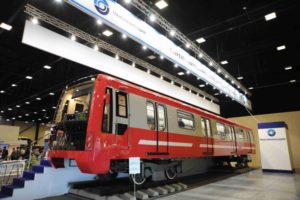 The metro train is designed according to specifications provided by experts at the St. Petersburg Metro. It features a new fibreglass mask, LED round head and side lamps, and a larger window on passenger doors. It also features a new livery. The formation of the trains is an eight-car formation with a motorised head car and drivers' cabs at the front and rear of the train. It is also fitted with four intermediate motorised cars and and two trailer cars in the middle of the train.
At the front head car body, there is an attachable escape ladder for emergency passenger evacuation. The train also features light-weight steel ceiling panels and plastic windows in the passenger carriages. Nominal board equipment is fitted with bi-level microprocessor-based control, safety and diagnostics system and internal and external CCTV systems.
To enhance passenger experience, the cars have stainless steel hand bars, LED light-lines in two separate modules and a high-performance axial fan ventilation system. They are also universally accessible with space for wheelchairsin the head cars.
The design marks the progress of a 2015 contract relating to the supply of 20 eight-car metro trainsets which was signed by Oktyabrsky Electric Railway Car Repair Plant (OEVRZ) a subsidiary of Transmashholding and St. Petersburg metro system. Delivery of the cars will be complete in 2020.