TERZ Present New Slim RJ45 Industrial Ethernet Switches for DIN Rail Mounting
The new NITE-RS RJ45 Industrial Ethernet switches for DIN rail mounting from TERZ provide reliable and space-saving networking in the control cabinet with only 22.5 mm installation width.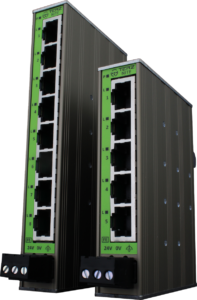 Simple, Reliable and Space-Saving Networking in the Control Cabinet
The new NITE-RS RJ45 Industrial Ethernet switches for DIN rail mounting are available with 5 and 8 Fast Ethernet ports. The switches are specifically designed for use in industrial and IoT applications where maximum efficiency is required. The TERZ Industrial Ethernet switches also operate reliably even if the supply voltage drops below 9 volts.
The NITE-RS excite with their quick and easy commissioning and enable a cost-effective extension of existing and new network installations. The unmanaged Plug & Play switches require the world's smallest installation space in control cabinets including the power connector. With an installation width of just 22.5 mm and an installation depth of just 75 mm, the switches impress with their extremely slim and high-quality metal housing. Due to the reduced footprint and the arrangement of the data and power connections on the front, switch cabinets and cabling can be optimized to reduce the costs.
The 24 VAC/VDC power supply with polarity protection and inrush current limitation, a dielectric strength of 2.25 kVDC, excellent EMC performance (DIN EN 50121-3-2) and the extended temperature range of -40°C to +70°C are just some of the advantages of the TERZ Industrial Ethernet switches. With two different frame forwarding/blocking variants (LLDP/PTCP), all applications are optimally supported.