Switchio at Transport Ticketing Global in London
Visit us on 28 and 29 June 2022 at Olympia London, Booth b14
Transport Ticketing Global is the world's largest public transport forum event for smart ticketing and mobility professionals. This year's 14th edition features an amazing lineup of top transport experts and other leading industry speakers from 71 countries.
The 2021 event was held online, so this year provides a fantastic opportunity to meet face to face and welcome the community back to London. Attendees will enjoy two days focused on the latest industry developments, international case studies, and inspiring solutions presented by more than 80 exhibitors.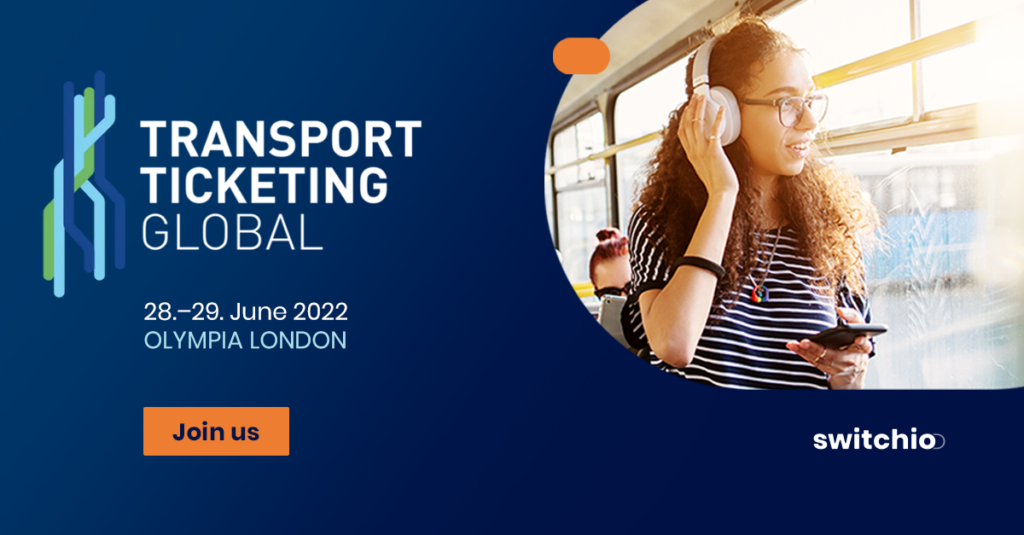 Future Trends of Smart Ticketing and Mobility
Transport Ticketing Global is the place to meet the most innovative transport operators and be inspired by the future of smart ticketing and mobility. Over 100 speakers will share their knowledge and case studies in the industry. Among other topics, visitors will learn about mobile-based and biometric ticketing, ABT, contactless payments, the use of a central bank digital currency on public transport, fare modelling and policies, and the latest in consumer habits.
The official programme includes over ten hours of dedicated networking, where attendees can enjoy refreshments while establishing new contacts and partnerships. Finally, an in-depth panel discussion will examine the biggest topics and future trends in the transport and ticketing industry.
Digitalization Is the Key
Contactless ticketing is the future. Contactless payment systems are being introduced in many countries at an increasingly fast rate. And one of the key factors driving this trend is clear – customers want a faster, safer, and easier way to pay.
At Transport Ticketing Global, Switchio will be presenting its unique cEMV payments solution. The Switchio Transport platform has been successfully implemented in Ostrava, the first city in Czechia to introduce cEMV ticketing. The Switchio platform has reduced operating costs by as much as 85%. The project is a prime example of what the smart ticketing solutions of the future look like.
Visit Switchio on 28 and 29 June 2022 at Transport Ticketing Global at Olympia London, Booth b14.