St. Louis Metro Transit Fares Now Available for Purchase with Official Mobile App Transit in Partnership with Masabi
Metro Transit riders are now able to purchase MetroBus and MetroLink fares directly from their mobile device using Transit, the official app of Metro Transit. The app is already used by tens of thousands of transit riders in the St. Louis region to plan their trip, track their ride and make multimodal connections – and now, it will let them pay for their transit trip, too.
The app's new mobile fare feature is part of Metro Transit's efforts to adapt to the COVID-19 pandemic, and keep both passengers and transit employees safe by providing a contactless, visually validated fare option. Metro Transit is excited to expand its partnership with Transit, which has become an indispensable part of every commute — and continues to provide up-to-date information for public transit riders. The addition of mobile ticketing to the app, thanks to a collaboration with Fare Payments-as-a-Service provider Masabi, makes the app an even more useful all-in-one solution for riders.
"Working with our partners at Transit and Masabi, we have been able to quickly bring this mobile fare feature online, and we are thrilled to be able to offer this convenient new option to our riders. Mobile ticketing not only supports the health and safety of our riders and operators during this pandemic, but also provides all of our customers with a better transit experience. Using Transit, you can now plan your trip, pay for your trip, check on the real-time status of your bus and more, all from your mobile device."
Buying your fare in Transit is easy: riders simply have to tap the "Buy ticket" button next to the Metro Transit logo inside the app. The app guides users through a step-by-step process to choose a fare type, enter payment information, and activate their pass, which can then be visually validated by operators and fare inspectors from a safe distance. Transit users can purchase both full-fare and reduced-fare passes, and keep passes in a wallet inside the app for use until they are ready to ride.
"We want to make it as easy as possible for people to ride public transit. During the coronavirus response, transit agencies are working to keep riders and employees safe by reducing close physical contact, and this solution helps them do that. Metro Transit's passengers already rely on Transit to find their next trip and track their ride. Adding the ability to buy transit passes gives riders everything they need in one app."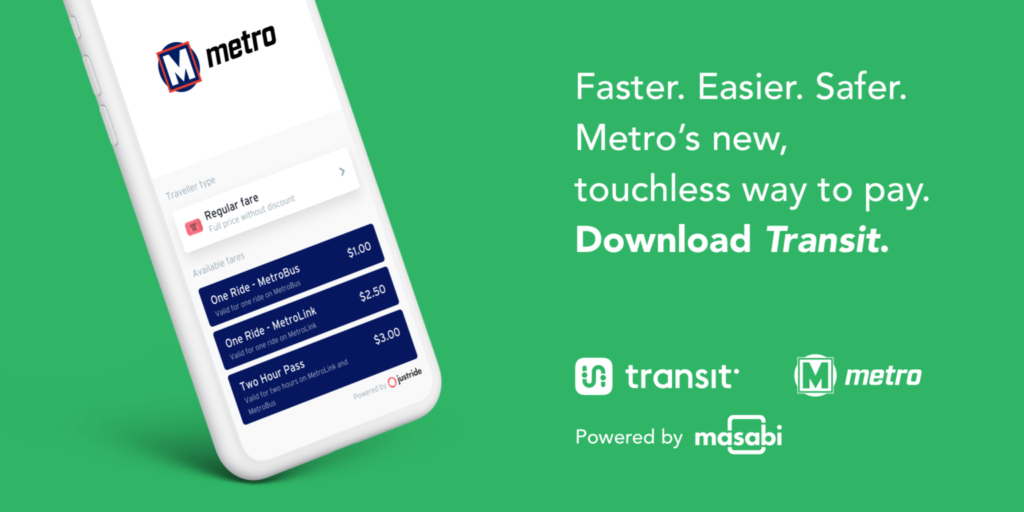 "Mobile ticketing used to be about speed and convenience, but now it is also about safety. We want to make sure that riders have a safe way to pay for public transit and that operators feel safe doing their jobs. Reducing the need to handle cash, tickets and interactions with ticketing infrastructure not only makes riding the bus easier, but safer too. It's a testament to the dedication and hard work from the teams at Metro Transit, Masabi and Transit, that we were able to launch this mobile ticketing service in under a month and we're proud to be playing a part in helping St Louis get moving again."
Metro Transit joins more than a dozen other agencies offering mobile ticketing with Transit, including those in Cincinnati, Denver, and Las Vegas. Mobile ticketing in Transit is made possible through Masabi's Justride SDK, which allows Transit to request fare types, make payments, and deliver visual and dynamic barcode tickets to riders through secure ticket wallets.
Three types of tickets will be available for purchase on Transit when the app's mobile ticketing feature launches on June 22.
This article was originally published by Masabi.