SINTRONES Launches Powerful Edge AI Fanless Computer To Accelerate AI Deep Learning Performance
SINTRONES, a global leader in computing technology for in-vehicle applications, announces the launch of the new ABOX-5210G Series with NVIDIA® Quadro® RTX 3000 GPU. The series exhibits a superior range of fanless computers that offer Edge AI GPU Computing capabilities for applications that necessitate real-time, low latency and secure computing at the local level. SINTRONES Edge AI fanless computers can be deployed to comprehensively support Artificial Intelligence of Things (AIoT) in smart city infrastructures and Intelligent Internet of Things (IIoT) in transportation systems.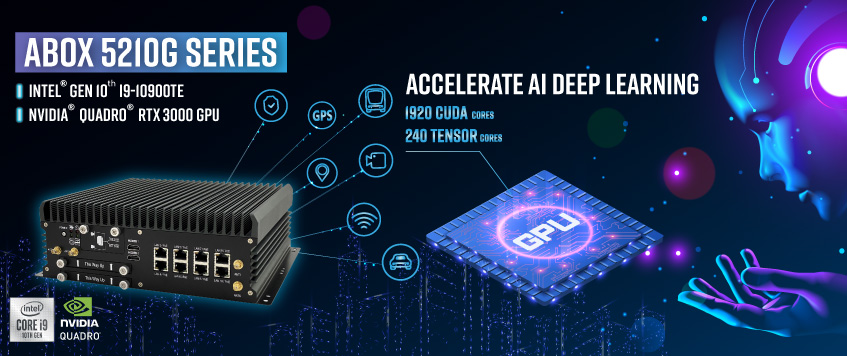 Powerful Intel® Core™ and NVIDIA® GPU Accelerates AI Deep Learning Performance
The computer is powered by Intel® Gen 10th 10 Cores™ Xeon®, designed for high performance computing and NVIDIA® Quadro® RTX 3000 GPU, to satisfy the most demanding GPU computing needs. Paired together, the technology delivers a powerful platform that accelerates AI deep learning performance in applications on the Edge. Embedded with 1920 CUDA cores and 240 Tensor cores, the computer boasts a superior GPU specification amongst its fanless computer peers. Longevity support from NVIDIA® is also included.
Application: AIoT in Smart City Infrastructures
The ABOX-5210G Series fanless computers can be used in AIoT applications within smart city solutions – playing a fundamental role in transforming the way cities operate. With its AI inference capabilities and a rugged design, the computer is well equipped to support various applications, such as surveillance security, traffic flow analysis, smart parking, and autonomous vehicle operations.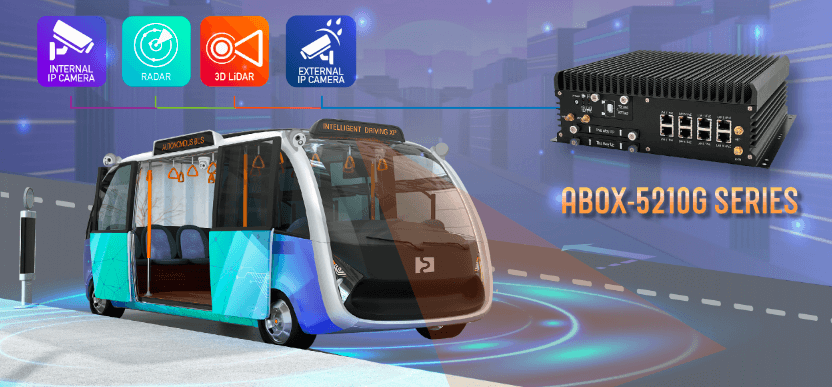 © SINTRONES
Application: IIoT in Transportation Systems
The new release provides the foundation to build operating systems such as fleet management and passenger information systems for public transport services. The ABOX-5210G Series facilitates real time data processing and a quick response system, ensuring the smooth flow of operations in the best interests of the public community.
Elevate your Edge AI Computing systems with SINTRONES solutions today.
Other Key Features:
8 x DI, and 4 x DO and 3 x RS-232/422/485
1 x M.2 B key, 1 x M.2 A-E key & 3 x MiniPCIe expansion slots
Dual Hot Swappable SATA Storage RAID 0,1,5
9-48V DC Input and Operating Temp.: -40~60°C
10 x GbE RJ45 (Optional 8 x PoE and 8 x M12 X coded connectors)
Rolling Stock EN 50155 and EN 50121-3-2 certified
This article was originally published by SINTRONES.