Russian Railways and Ferrovie Sign MoC
Russian Railways and Ferrovie dello Stato Italiane Spa have announced that they have signed a Memorandum of Cooperation in Rome this week. The signatories were Oleg Belozerov, President of Russian Railways, and Renato Mazzoncini, the CEO of Ferrovie.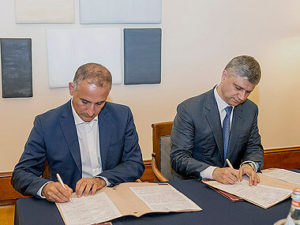 The memorandum relates to several areas; primarily it is intended to promote cooperation between the two companies, specifically relating to the development and implementation of joint projects to construct new, and modernise existing, rail infrastructure in Russia and Italy. It also relates to the provision of of international transport and logistics services and products for international freight and passenger traffic.
The two companies will make efforts to enhance the efficiency of the existing rail network in Russia and Italy, and improve the competitiveness of rail transport, operational safety, and environmental sustainability. They will also undertake to create the optimum conditions to draw additional traffic flows and create better tariff policies and information systems.
The parties also have agreed to promote mutual contacts within the framework of international organisations such as the Union of Railways. This is to develop cooperation between railway systems using narrow gauge 1435mm track and 1520mm broad gauge lines.
Both companies have professed an interest in creating better cooperation on high speed rail links as part of a programme to develop high speed rail in Russia, and improve cooperation in reference to scientific research, technological and innovative development of rail transportation, and cooperation in developing markets in third countries.
Oleg Belozerov, President of Russian Railways, said:
"In order to achieve greater efficiency in transporting goods and passengers, the railways of different countries must work as a single integrated mechanism. The memorandum that we signed with Italian colleagues is yet another bridge in the development of railway communications not only between our two countries, but also across the European continent."