Ruggedized M12 Industrial Ethernet Switches for Rail Vehicles and Busses

Reliable and Robust Communication Networks in Rail Vehicles, Busses and Commercial Vehicles
Communication networks in rail vehicles and busses are increasingly being used for more and more services. This includes applications which are available to each passenger individually such as Internet access via Wi-Fi and also information services and security related applications such as passenger information systems, video surveillance and passenger counters at the doors. All these services and systems depend on the permanent availability of the network.
With the granting of E1 approval, the TERZ M12 Industrial Ethernet switches can be used in rail vehicles, buses and commercial vehicles. The Kraftfahrt-Bundesamt issued the corresponding approval in accordance with the current UNECE regulation with regard to radio interference. Both the NITE-XS M12 switches with IP65/67 protection and the NITEXK with IP40 protection have been approved. All switch variants are also available with the M12 push-pull quick-connect technology, which has also been approved.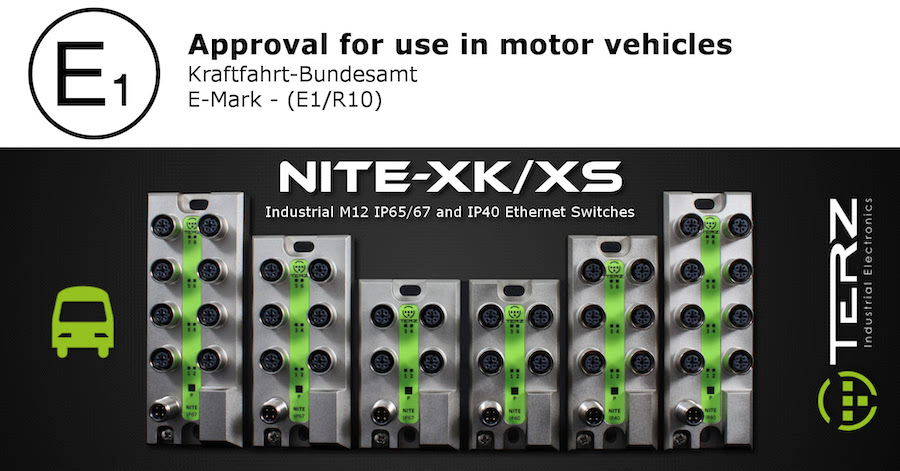 TERZ Industrial Electronics
The TERZ Industrial Electronics product range includes highly optimized ruggedized Industrial Ethernet Switches with RJ45 and M12 connection technology and M12 Industrial USB Flash Drives. All products are perfectly suited for use in harsh industrial environments and for networks in passenger trains, buses, commercial vehicles and agricultural machinery. The electrical, mechanical and environmental properties are tested in accordance with DIN EN 50155. The world's most compact size-optimized IP65/67 switches allow a cabinet-free direct installation in the field to save decentralized control cabinets. With many years of experience in industrial networking technology, electronics development and manufacturing, all our products are 100% developed by us and are manufactured in Germany.