Fehmarnbelt Tunnel Contractors Appointed
Femern A/S, the company charged with the construction of the Fehmarnbelt Link, have announced the signing of four major construction contracts. The Fehmarnbelt Tunnel is a 19km tunnel linking Rødbyhavn in Denmark to Puttgarden in Germany. The contracts are worth a total of nearly €4 billion. A list of the winning consortia can be found here.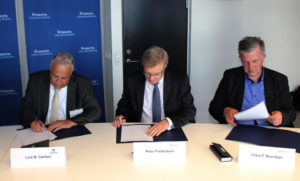 Four consortia of international contractors have been selected following a competitive EU tender. They are conditional on final German environmental approval. The decision of the winning bidders was postponed from 13 May 2016, pending a review of a complaint made by contractors who did not win contracts. The complaint was made to the Danish Review Board for Public Procurement, where it is still under consideration.
The works to be undertaken from the contracts relate to the immersed tunnel and tunnel factory (Tunnel North and Tunnel South contracts) and the construction of portals and ramps (Tunnel Portals and Ramps contract), which were won by the consortium Femern Link Contractors. The Tunnel Dredging and Reclamation contract was won by Fehmarn Belt Contractors.
Claus F. Baunkjær, CEO of Femern A/S, said:
"We're pleased that, after a number of years of preparation and a tendering process, contracts have now been signed with the winning contractor consortia. As a result, our prime focus is now on obtaining German approval, which is a condition for getting construction underway."
More information on the project is available here.