Rail Baltica AS is putting in place mitigation measures to combat the effects of climate change. RB Rail AS commissioned a study to examine how climate change would affect Rail Baltica operations and maintenance for the life-cycle of the line.
The study, which the Estonian environmental management and spatial planning consultancy company Hendrikson & Ko. conducted in collaboration with SIA Vides Eksperti and DGE Baltic Soil and Environment, looked at 30 years of climate and weather data. It also took national climate projections into account. Its purpose was to prepare for climate change and make sure the infrastructure can cope with various climate scenarios.
Main Climate Study Conclusions
The study's key findings were that the Baltics would experience milder winters with less snow. However, more of the snow would be wet snow. There will also be more freezing rain, glazed frost and ice formation.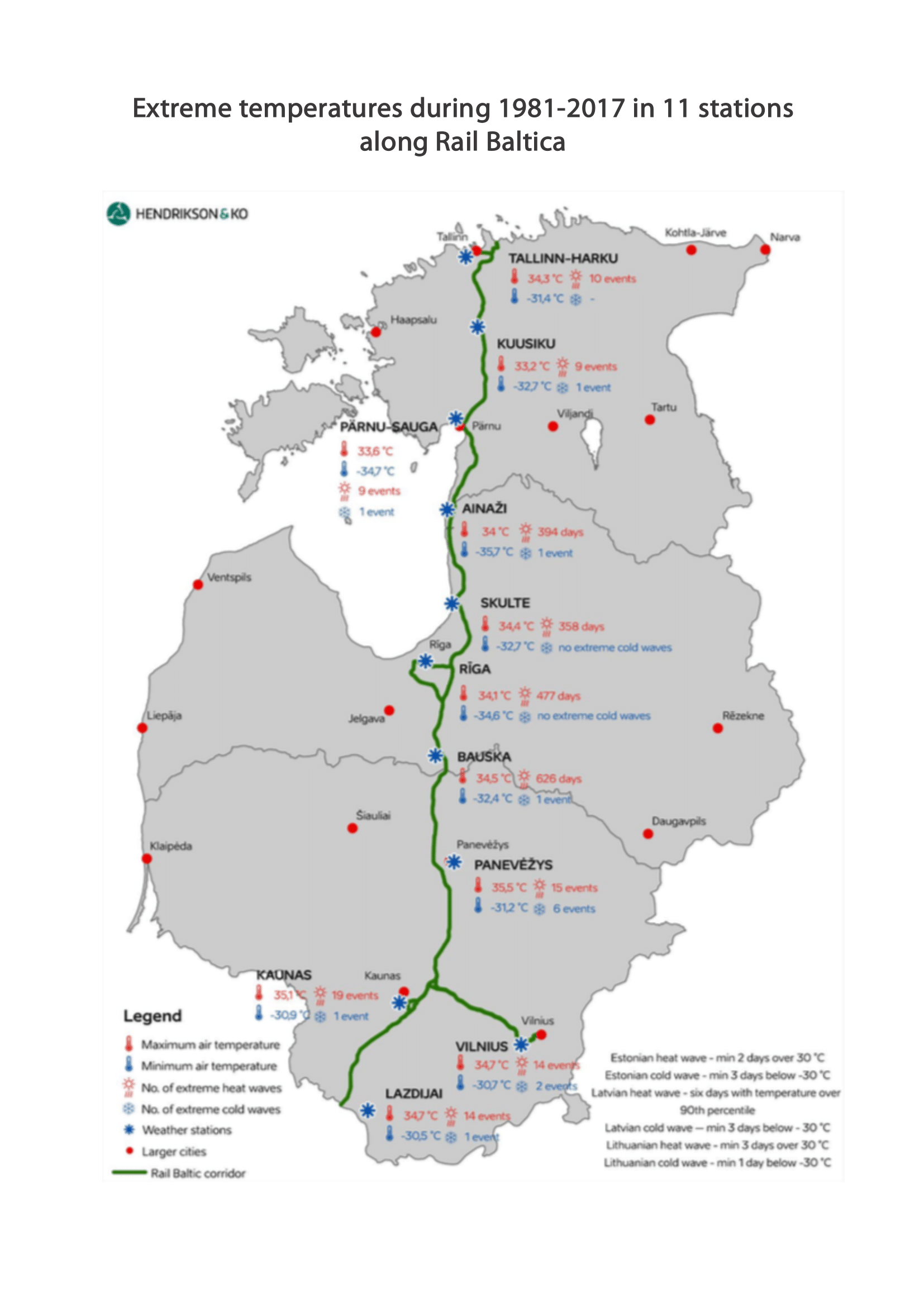 The summers will see more frequent heat waves, with maximum temperatures of 40 degrees or more. Furthermore, the study says there will likely be more heavy rainfall events and thunderstorms because of higher air temperatures. These could lead to more intense summer thunder clouds and an increased wind gust speeds in summer.
"Climate change is becoming an important element in designing and constructing infrastructure objects that will serve the public needs for decades to come.
"We are pleased to see that Rail Baltica developers are taking a long-term view and considering potential weather and climate risks and foreseeing the mitigation measures already at the design phase of the project. This kind of approach is quite unique in the Baltics and therefore it is important to note that the management of climate risks should be integrated into the general risk management, monitoring and control systems of Rail Baltica and not managed as a stand-alone subject."
Climate Change Mitigation Measures
Severe weather events such as heavy rain and winds, storms and snow, freezing rain and glazed frost can all suspend or disrupt rail traffic. They can also damage railway infrastructure. Operational safety and additional asset damage are further concerns. There are also financial considerations. For example, insurance costs could increase.
The study classed the mitigation measures into three different categories: avoidance, mitigation and optimisation.
One example: the risk of snow, freezing rain and glazed frost on points operating equipment (POE) overhead power lines and catenaries was classed as 'high'. The potential consequence: "Points operating equipment (POE) failures due to snow and ice accretion. Damage to catenaries, overhead power lines." The adaptation measure: "Specification of technical requirements for POEs, catenaries and overhead power lines should consider clear trend of milder winters with more precipitation and increased likelihood of wet snow, freezing rain and glazed frost events." Category: avoidance, mitigation.
Rail Baltica Weather Service
The Rail Baltica Weather Service is to focus on three areas:
weather definitions and thresholds: using a traffic light system to class weather as normal, dangerous or extremely dangerous
weather information and support systems: providing measured, monitored and modelled real-time and offline information for reporting, forecasting and alerting in daily Rail Baltica operations
and weather event responses: weather resilience planning according to the operating and alerting statuses 'normal conditions', 'be aware', 'challenging weather', and 'extreme weather'
Also read: