The Public Transport Forum addresses innovative strategies for the success of the traffic turnaround at InnoTrans 2022.
The Public Transport Forum is back at the Berlin Exhibition Center during InnoTrans 2022. On September 22nd, the most traditional InnoTrans framework conference brings together the profound know-how of experts on current and future developments in the mobility market for the 12th time.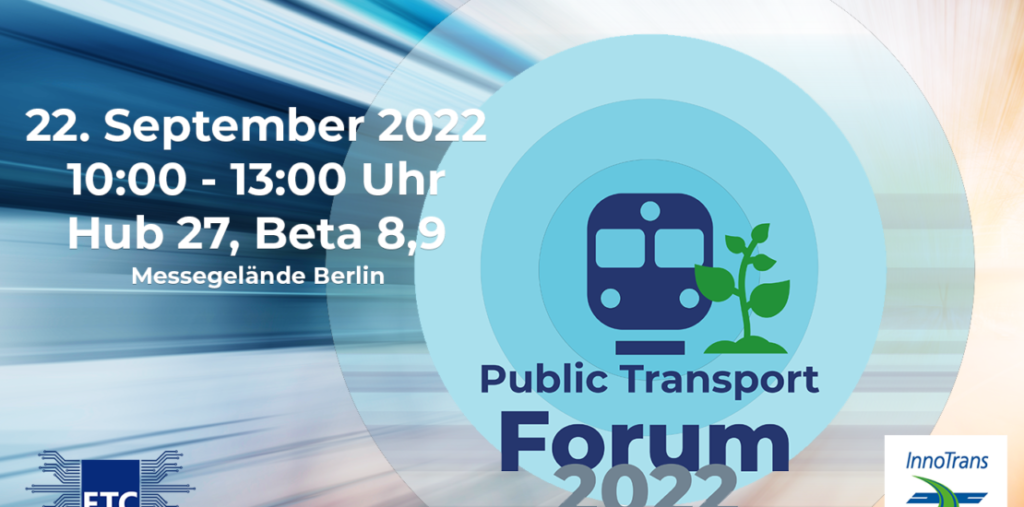 "Innovative strategies for the success of the traffic turnaround – mobility market between vision and reality" is this year's motto of the event, under which the opportunities and challenges related to digital, ecological and regional transformation, from rail to vehicle to driver's cab, will be discussed.
Well-known representatives from politics, business, science and administration will be there. The forum will be opened by Michael Theurer (Parliamentary State Secretary to the Federal Minister for Digital Affairs and Transport and Federal Government Commissioner for Rail Transport). The event will be moderated by Prof. Knut Ringat (Rhein-Main-Verkehrsverbund Servicegesellschaft mbH, spokesman for the management).
The organizers of the Public Transport Forum are the companies ETC Solutions GmbH and PBV Planungsbüro für Verkehr. This year's conference is supported by the ISB engineering company for security technology and construction, the Rhein-Main-Verkehrsverbund Servicegesellschaft mbH and the Mobility inside Holding GmbH Co KG.
This article was originally published by ETC Solutions.