Our wheelset overhaul shop in Ptuj is now able to undertake shrink-fitting of wheelsets, which is typical for newer types of locomotives and passenger trains.
The work required forming dedicated crews of technicians, setting up specialized facilities, and developing a new technological procedure to shrink fit the wheelsets.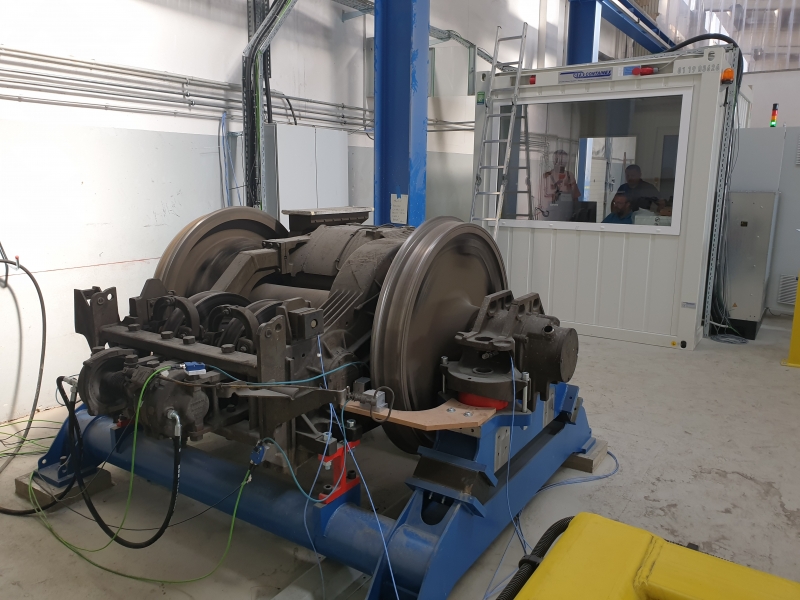 Our goal is to be able to offer complete maintenance of EuroSprinter locomotives, and drive unit overhaul is an integral part of such work. Drive units were previously serviced by a subcontractor, but we knew that we had the technical capability to perform it in-house, so we decided to look at the options to get the service up and going at our own shop. This manner of expanding the range of our services gives us new ways to improve your experience by cutting maintenance costs and minimizing downtimes while continuously improving our work and staying up-to-date with new technologies. Moreover, new services open up opportunities on international markets, where demand is growing year by year, and it is our aim to offer this service also to clients abroad once the replacement procedure is optimized.
Monobloc replacement has been a part of the daily routine at Ptuj workshop, but only on units other than the ES64U4. Comparatively, wheelsets fitted to EuroSprinter locomotives are more complex due to the gear unit and requires post-overhaul testing of the drive unit on a test bench, which had been purchased recently along with other specialized tools specifically for this service.
The training and upgrading the workshop will be continued until we are able to deliver overhauls of the ES64U4 drive as a complete unit with all components included, so that we are able to remedy any defects or worn parts which might come up during the testing.
We are currently booked with orders for monobloc replacements on EuroSprinter locomotives from SŽ freight operator, Tovorni promet, but once the capacities free up we will be accepting orders from clients abroad, also, who have already expressed interest in ordering this service.
This article was originally published by SŽ – VIT.