PowerRail Electronics and Technology is Relocating
PowerRail Electronics and Technology (PETX) has begun the 725-mile trek to their new home. After 8 years, PETX is leaving Rincon, GA and relocating to Connersville, IN. The recently purchased 50,000 sq. ft. facility in Connersville that currently houses PowerRail Manufacturing has more than enough room for both entities. With a recently installed state- of-the-art Data Center, new LED lighting, a sand blasting booth, and much more, this facility offers growth not only for current PowerRail products, but also for additional product lines in the future.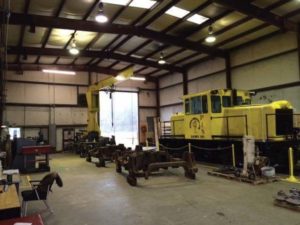 The new closer proximity of PowerRail Electronics to PowerRail Manufacturing will also aid in the synergy that already occurs on a daily basis when manufacturing and remanufacturing quality locomotive parts and components for the Rail Industry.
With the move of these two facilities also comes the promotion of Shelby Steele to General Manager. Shelby has been a part of the PowerRail Family since 2008. Over the past 10 years, he has worked his way through various production lines, learning all of the PowerRail products, and was most recently the Production Manager for PowerRail Manufacturing. In his new role, Shelby will serve as GM over both PowerRail Manufacturing and PowerRail Electronics.
About PowerRail, Inc.
PowerRail is a United States-based company, with additional locations in various parts of the world. Originally formed in 2003 in Wilke-Barre, Pa. today the PowerRail Corporate Offices and Main Distribution Center are located on a 7+ acre site in Duryea, Pa. The PowerRail Family of Companies proudly offers a wide range of rail-related parts and components. Locations include PowerRail Corporate, Avoca Rail, and PowerRail Industries all of Duryea, Pa; Cooper Bearings of Georgetown, Del; PowerRail Manufacturing, Rail & Traction North America and PowerRail Electronics Technology of Connersville, Ind; and PowerRail Locomotive Services and Mobile Maintenance of Monroe, Ga. International locations include PowerRail Australia and PowerRail Europe.
FOR ALL THE LATEST INFORMATION, NEWS, IMAGES, VIDEOS AND ARTICLES FROM POWERRAIL, INC., PLEASE CLICK HERE.