Powernet to Showcase New Battery Management System at InnoTrans
At InnoTrans 2016, Powernet will showcase the new BCS Battery Management System (up to 12,8kW) for rolling stock applications, as well as exhibit the whole ADC9000-series modules, for auxiliary power needed in the 500-3200W range.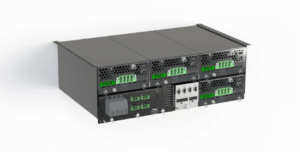 Rail Battery Management Systems
The BCS-system is based on the popular ADC9000 family modules. By combining several ADC9000 units in a BCS system solution, the power range can be configured from 6,4 to 12,8kW with high redundancy inbuilt. Furthermore the system is closely integrated with the train management system and displays extraordinary high efficiency and flexibility over the whole power range as the system controller optimises the usage of the internal switching mode power supply modules independently. The small form factor allows for light and flexible installation options, including IP65 enclosures for rooftop installation.
Harry Lilja, VP Sales and Marketing at Powernet Oy said:
"Our popular ADC9000 series offers a broad portfolio of modules for auxiliary power supply needs in the range of 500-3200W. The small and light power modules are available as converters, power supplies and battery chargers. The new BCS-system is a top-of-the- line solution that combines the ADC9000 modules with the high level functionality of a deeply integrated Battery Management System in the Train. We look forward to a busy week at Innotrans and invite all existing and new customers to visit us!"
You can find Powernet at this years InnoTrans in Hall 17, Stand 112.