Inauguration of Bybanen LRT Extension
A depot and the latest 7km extension of the Bybanen light rail network in Bergen, Norway was inaugurated following the completion of six years of works carried out in partnership with Bybanen and operator Keolis. The works have extended the network from 9km to 20km and seen passenger numbers double. Two further extensions are planned which will double the length of the network again, to be completed by 2026.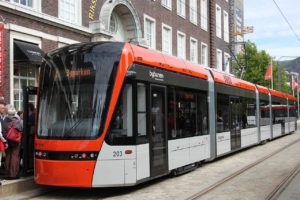 Bybanen LRT Extension
The Bybanen LRT has consistently expanded since it began operating passenger services in 2010. The network currently carries 35,000 passengers every day. Keolis began working with Bergan's public transport authority, Skyss. In 2013, Skyss began a 4.4km extension, and increased the number of operational employees by 80%.
This has enabled the company to improve services to four minute intervals at peak times and to operate for longer, from 5.45am to midnight on Monday to Thursday, and from 4am on Friday to Sunday. This has created a customer satisfaction rate which is consistently between 95% and 99%. The extension of the LRT was therefore inevitable, to meet growing demand in Norway's second largest city.
Keolis and Skyss
Skyss has extended Keolis' contracts to the end of operations in June 2018, with a possibility of an additional one-year extension. The new depot and the extension of the line, which was in part financed by city tolls. This latest stage of upgrades to the network includes the cutting-edge depot, with capacity for 40 vehicles, and 7km of track.
Eight new trams, which will be 42m long and have capacity for 280 passengers, will be added to the existing fleet as part of the upgrade programme. By 2017, the fleet's existing trams will also be extended to increase capacity. The enlargement of the fleet will meet an expected 13% increase in ridership which will follow the extension, and the addition of two stops to the city's airport, which will begin operating in 2017.
Bernard Tabary, CEO International for Keolis, said:
"Keolis is proud to operate Bybanen, the most modern light rail network in Scandinavia. The network highlights Keolis' expertise in successfully launching and operating light rail networks, as well as its ability to build long lasting partner relationships with public transport authorities."