Parker Hannifin Exhibit at InnoTrans 2016
Motion and control technology leaders, Parker Hannifin, have announced that they will exhibit at InnoTrans 2016 in Berlin. Visitors to the Parker Hannifin stand will be able to see their broad range of components and solutions of the many technologies on offer. They will be able to see the applications these technologies within the rail industry, and be able to discuss those applications with Parker's experts.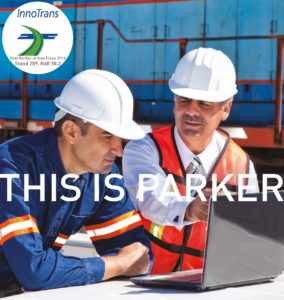 Parker Hannifin is an internationally leading diversified manufacturer of motion and control technologies and systems. It makes precision-engineered solutions for a wide variety of mobile, industrial and aerospace markets in addition to its technologies and innovations for the rail industry.
Parker's wide range of innovative products meet various customer requirements for motion and control systems and applications, driving advancements in the rail industry. Parker will exhibit its products and solutions for rail vehicles. These technologies include air treatment and filtration equipment for pneumatic systems, control valves and related components designed especially for rail applications, as well as integrated control systems for applications like pantographs, doors mechanisms and couplings. In addition, Parkers range of rugged hoses and connectors intended for use specifically in the rail industry will also be displayed.
Parker's motors and drives, which are in use in other parts of the transportation industry, will also be on display. Those technologies such as the on and off-road vehicle markets have potential to be developed in the rail sector. Other technologies such as as electric racing superbikes (seen at the Isle of Man TT Races recently) will be on display, as well as e-steering systems for buses and commercial vehicles ancillaries.