Edmonton's Valley Line Southeast light rail transit (LRT) will open for passenger service on Saturday, 4 November, having been certified by professional engineers, a safety auditor and an independent professionally-qualified certifier.
The Valley Line Southeast is the first completely new transit line to open in western Canada in a generation and will transform how people move through the city. It's an integral part of Edmonton's City Plan, which aims for a future where 50 percent of trips are made by transit and active transportation.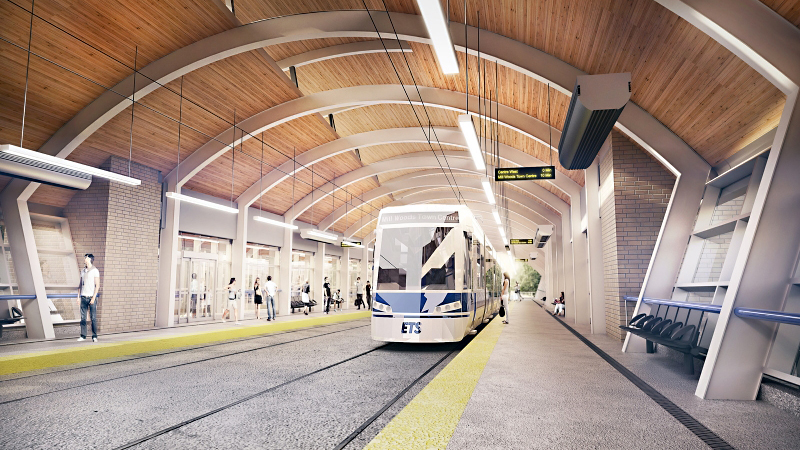 With 11 street-level stops, the LRT will run for 13 km from Mill Woods to Downtown Edmonton.
The project cost totals $1.8bn CAN and is being delivered by a public-private partnership between the City of Edmonton and TransEd Partners, which is composed of Bechtel, EllisDon, Alstom and Fengate Capital Management, with support from Arup Canada and IBI Group.
Works have included the development of an elevated station with a 1,300-spot park and ride facility and a full transit centre located in the Wagner industrial area; the new Tawatinâ Bridge across North Saskatchewan River; a short tunnel from the north face of the River Valley through to the Quarters redevelopment; and an interchange point at Churchill Square to access existing transit lines.
The new LRT will have the same hours of operation as the existing Capital and Metro Lines. Service will begin at 5am Mon-Fri from the Mill Woods stop, and on Sat-Sun at 5.15am from the 102 Street stop.
The final trains will depart 102 Street stop and Mill Woods stop at 1am Mon-Sat and 12.30am on Sundays.
Specific stop schedules will be available closer to opening day.
Transit fares and tickets for Valley Line Southeast are the same as the existing transit network. Standard monthly and yearly passes are accepted, and reloadable Arc cards and single-use Arc tickets can be purchased at vending machines at all stops.
Leading up to the opening of the line, TransEd will be conducting final exercises to ensure train operators and control centre staff are ready for the launch. Over the coming weeks, it will also be completing final work like curbs, landscaping and maintenance.
"This has been a long journey, with challenges and detours, but we're confident in the system we've built. Our focus has always been, and will continue to be, delivering a safe, reliable system to Edmontonians.
"We're excited to welcome passengers onboard these brand new trains."
A  formal opening ceremony for the LRT is planned for early 2024.