High-Speed, High-Frequency, High-Precision Measurements
The Olympus 72DL PLUS™ ultrasonic thickness gauge delivers precision thickness measurements at high speed in a portable, easy-to-use device. With fast scanning, advanced algorithms, and our lowest-ever minimum thickness capability, you can confidently measure the thickness of very thin layers in the most challenging applications.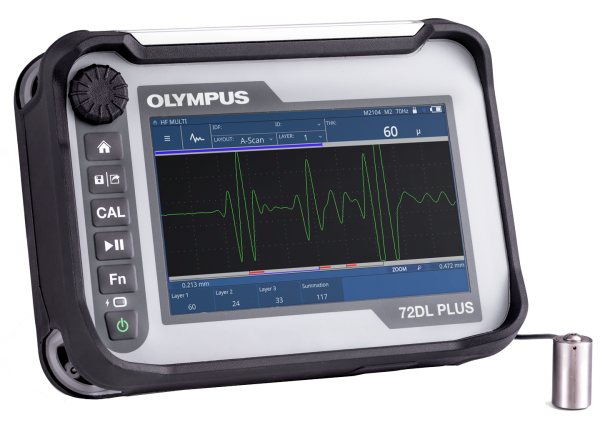 See a 360 view of the Ultrasonic Thickness Gauge here.
72DL PLUS thickness gauges are available in Standard Frequency and High-Frequency models. The High-Frequency model can measure ultra-thin materials, including multilayer paint, plastics, metals, and coatings, and the Multilayer Measurement Software can simultaneously display the thickness of up to six independent layers. All 72DL PLUS models have the features to perform fast, accurate thickness measurements:
Digital filters enable an excellent signal-to-noise ratio to accurately measure noisy materials (e.g., fiberglass)
High-resolution touch screen is easy to use and see from various angles
PC Interface Application integrates your workflow, inspection management, alerts, and data analysis
72DL PLUS Features at a Glance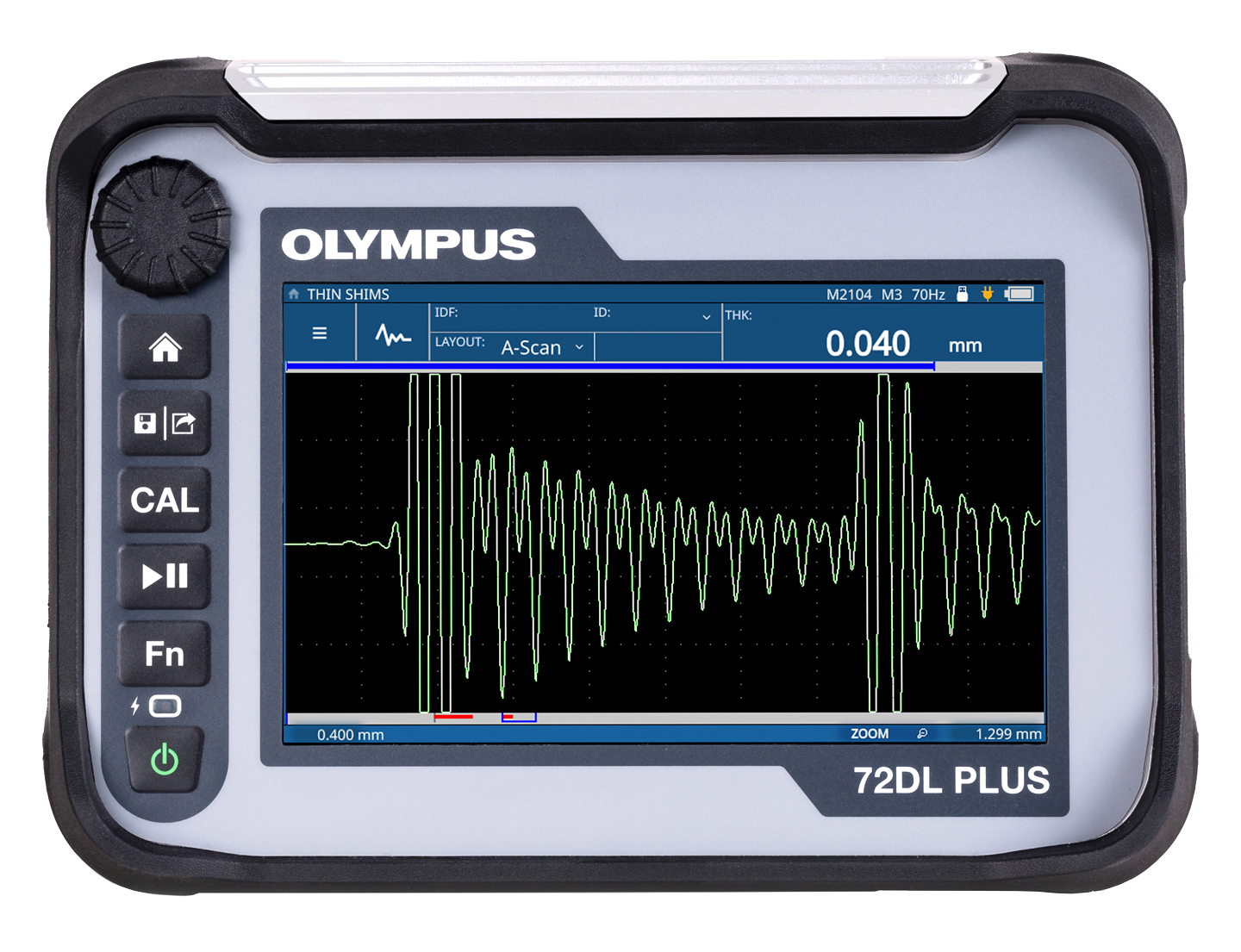 © OLYMPUS EUROPA SE & CO. KG
Rugged: designed for IP65
Large, clear screen: 177.8 mm (7 in.) high-resolution touch screen WVGA display
Versatile layouts: A-Scan, B-Scan, A/B-Scan, Trend, and Zoom measurement layouts provide an accurate picture of thickness changes
Customizable: Standard Frequency model and High-Frequency model—with or without the Multilayer Measurement Software option
Long battery life: up to 8 continuous hours
Efficient data management: internal data logging and PC Interface Application speed up data collection and review
Connected: supports wireless LAN and Bluetooth®
Cloud enabled: wireless connection to the Olympus Scientific Cloud™ (OSC) and compatible OSC apps
Easy application setup: create custom applications to reduce device setup time for routine inspections
Intuitive User Interface with an Easy-to-View, Large Screen
Wide viewing angle for outstanding visibility in most ambient conditions
177.8 mm (7 in.), full color touch screen provides access to the setup and measurement layouts
Guided configuration makes it easy to change the settings based on your needs
An Ultrasonic Thickness Gauge Built for Industrial Environments
Designed for IP65 to protect against dust and moisture
Drop tested (MIL-STD-810G) to protect against falls and reduce the need for costly repairs
Takes reliable measurements in a wide operating temperature range of –10°C to 50°C (14°F to 122°F)
Portable for the production floor, weighing 2.1 kg (4.6 lb)
Easy to control from the touch screen, key controls, and adjustment knob
Can be used indoors and outdoors, on a work surface, or using a four-point chest harness or shoulder strap
Measure the Thickness of Up to Six Layers for Multilayer Coatings, Paint, Plastics, and Other Materials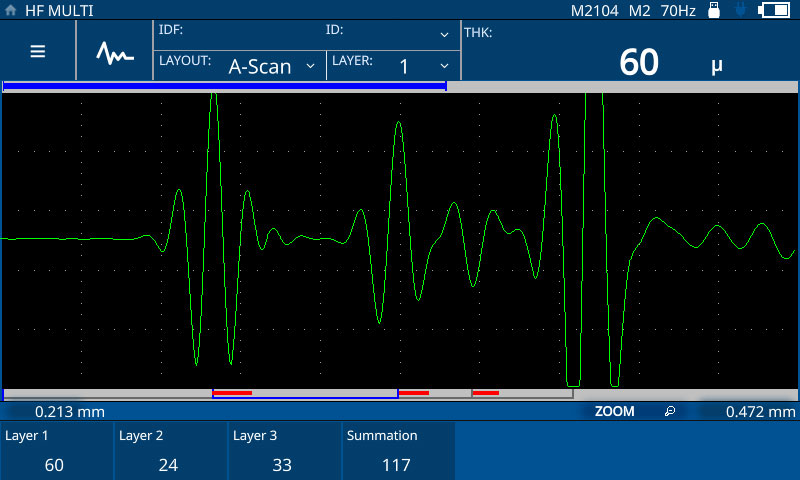 © OLYMPUS EUROPA SE & CO. KG
The Multilayer Measurement Software offers multilayer thickness measurements of up to six layers. Measurement settings for each layer—including material, velocity, target thickness ranges, and alarm thresholds—are easily accessible through the configuration workflow and touch-screen controls.
This article was originally published by OLYMPUS.