Austrian Federal Railways (OEBB) is testing Alstom's hydrogen train, the Coradia iLint, in passenger service during a ten-week test phase that will run until 26 November 2020.
This is the first time the hydrogen train is carrying passengers in Austria. The iLint is replacing a diesel multiple unit and will operate in the Vienna area. Alstom manufactures the Coradia iLint in Salzgitter, Germany. It uses on-board fuel cells to convert hydrogen and oxygen into electricity so that this train does not have any carbon emissions during operations. Estimates suggest that even during the test phase the hydrogen train will make a saving of 60 tons of carbon dioxide emissions.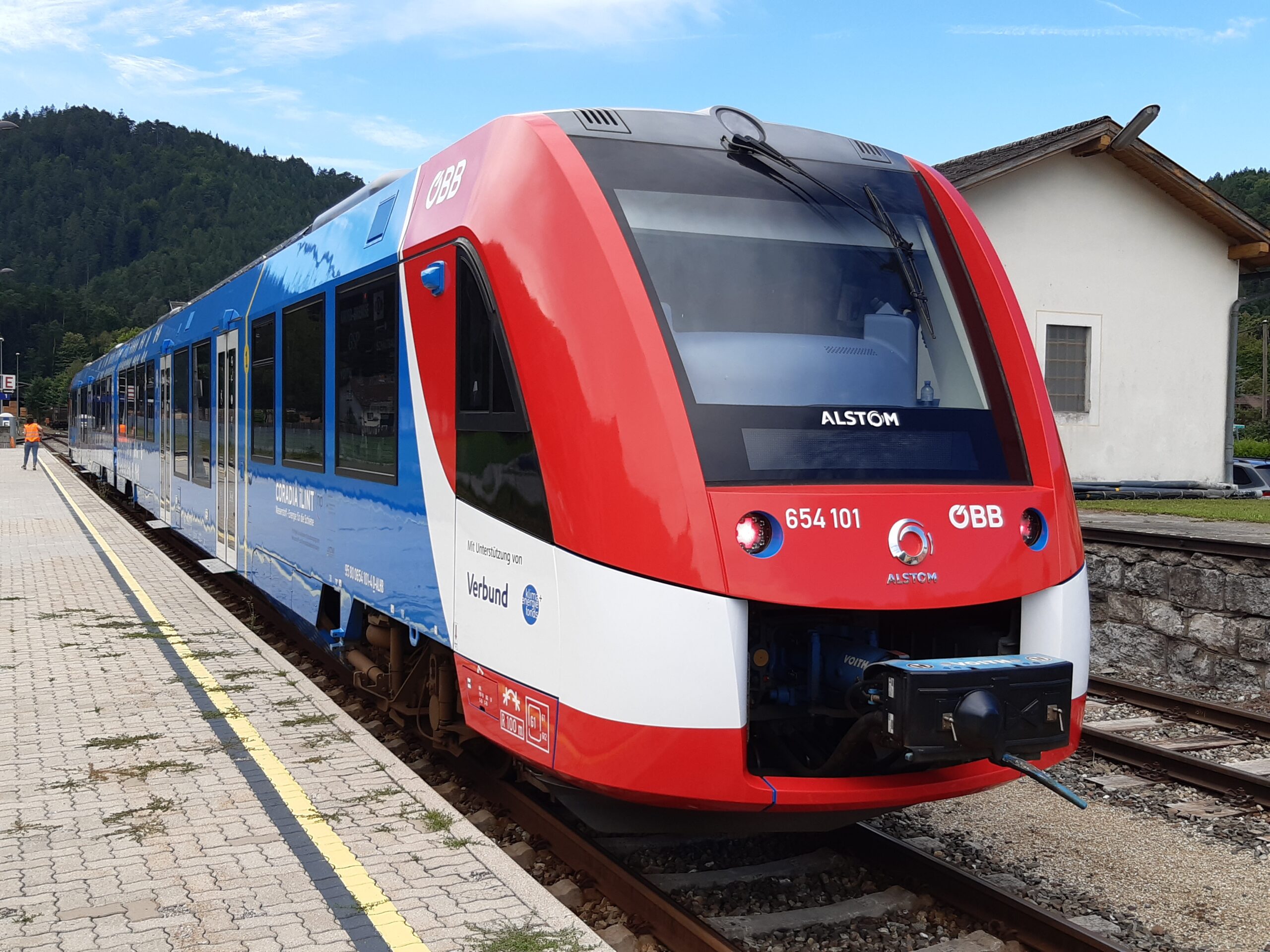 The hydrogen train has been undergoing test operations in northern Germany since 2018. Now it will be put through its paces in Austria on geographically challenging routes – the routes in southern Lower Austria are more challenging than those in northern Germany and the Netherlands where the iLint has been tested to date.
"We see ourselves a clear pioneers when it comes to testing hydrogen technology on the railway. As Austria's largest climate protection business we're helping shape the future via technological alternatives in the mobility sector."
After 1.5 years of trial operations in Lower Saxony, Germany and more than 180,000km travelled, 14 series-production trains will begin delivery in 2022. Now OEBB wants to see whether the hydrogen technology is suitable for replacing diesel trains on non-electrified lines. OEBB is being supported by the Klima- und Energiefonds and VERBUND AG, which will certify the hydrogen used during trial operations as green. Thanks to the co-operation with scientific partners – Shift2Rail Joint Undertaking, AIT Austrian Institute of Technology and HyCentA – the project ensures that the hydrogen technology is examined from a number of different scientific perspectives.
"With its use in regular passenger operations for ÖBB, our innovation train Coradia iLint has reached the next milestone.
"The train's emission-free drive technology offers a climate-friendly alternative to conventional diesel trains, especially on non-electrified lines. I am particularly pleased that ÖBB, a strong and long-term partner in the European mobility market, is convinced of our technology and its advantages."
The Coradia iLint has a top speed of 140km/h.
Also read: