nVent ERIFLEX: Innovative Low Voltage Power Distribution Connections
An important part of our offer to the rail industry is in the nVent ERIFLEX product line, which provides innovative solutions for electrical conduction and low voltage power distribution (AC/DC power conversion).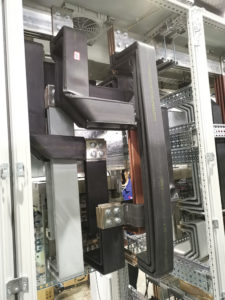 nVent ERIFLEX products are used across many different industries, and provide unique advantages that are ideal for railways electrical systems, both onboard and trackside. nVent ERIFLEX products, which include flexible busbars, distribution and power blocks, metallic braids, and cabling sleeves, are characterized by innovative material composition that contribute to safety and reliability in railway electrical systems.
nVent Low Voltage Power Distribution Solutions at Work on Railways
The advantages of nVent ERIFLEX products are evident in solutions like nVent ERIFLEX Flexibar Advanced flexible busbar and nVent ERIFLEX IBSB Advanced insulated braided conductor. Both products are composed of precise layers of electrolytic coper that provide for a flexible, low profile, and light-weight design, and are insulated with advanced material that allow for high working temperatures up to 115˚C.
The proprietary TPE insulation of Flexibar Advanced and IBSB Advanced is low smoke / halogen free and flame retardant in conformance with EN 45545-2 (the European standard fire-performance requirement for materials and products used onboard railway vehicles), which is one reason that these innovative cable replacement solutions are increasingly being used in low voltage power distribution applications for onboard electrical systems.
About nVent
nVent provides solutions that connect and protect critical railway infrastructure and systems, improving safety and reliability throughout the network. We offer innovative, high-quality products for critical electrical and electronic systems throughout the railway network.
Through our powerful portfolio of brands that include nVent ERICO, ERIFLEX, HOFFMAN, RAYCHEM and SCHROFF, we provide electrical connection solutions for trackside and on-board applications, surge and lightning protection, trackside heating solutions, and enclosures for trackside signalling and on-board systems.
Our portfolio of industry-leading products is designed to meet international railway standards. With a manufacturing and sales presence in every key rail market, we serve a global base of customers that includes railways, system integrators, rolling stock manufacturers and major rail equipment OEMs.