NTT Data win myki Contract in Victoria
IT innovation company NTT Data have won a contract to operate and manage the Victoria myki ticketing system in Australia, from 1 January 2017. The contract includes requirements for improvements to the myki ticketing system over the course of the seven year contract.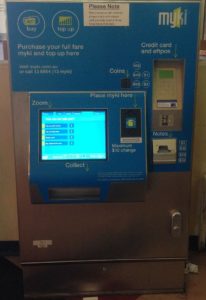 The contract also puts greater commercial liability on the operator, NTT, rather than the Victorian Government. It requires also that NTT improve performance indicators and give better value for money by way of a fixed-price model. NTT and Public Transport Victoria will work together to develop and implement a "ticketing innovation strategy", including the development of contactless technology, building on improvements in ticketing systems made over the last 18 months.
These improvements include faster online top-ups, faster readers on trams and at busy stations, and the introduction of tap-and-go payment technology on myki machines. There is also a trial of myki QT (Quick Top-up) machines currently taking place at the ten busiest stations in Melbourne. The trial will run for a minimum of three months in order to ascertain how the machines impact passenger flow at key locations, and whther they ease demand on myki vending machines.
myki is a leading smartcard ticketing system, with 600,000 myki cards used internationally every day, and over 12 million active myki cards in circulation. Its use is hoped to help deliver a faster, simpler and easily accessible public transport ticketing system.
NTT Data is a subsidiary of NTT Group, headquartered in Tokyo and operating in 42 countries.