PA Victoria Trial myki Contactless Payment
Public Transport Victoria have announced that they will roll out myki contactless payment devices across the Victoria transport network over the next few weeks. The myki Quick Top Up machines will be installed on a trial basis at 10 of Melbourne's busiest metropolitan and regional stations and stops in order to deliver a faster and better passenger experience.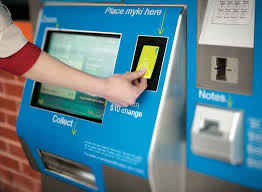 The myki Quick Top Up machine will enable passengers to check their balance and make contactless payments to top up their myki balance at the machine. The next generation devices have thus far received positive feedback since they were introduced, and are already reducing queues at the highest capacity locations on Melbourne's public transport network.
The trial will run for a three month minimum period. It is intended to enable Public Transport Victoria to better analyse how the machines impact passenger flow at key locations, and ease demand on myki vending machines. At the end of the trial, assuming it is successful, Public Transport Victoria will assess the suitability of installing the Quick Top Up machines at other locations.
The machines are operated by Kamco, the Keane Australia Micropayment Consortium Pty Ltd., a Melbourne based company with 100 employees in Australia.