Nomad Digital is Delighted to Announce the R5001
Nomad Digital is delighted to announce the availability of its new R5001 flagship rail approved vehicle communications gateway, and computing centre product.
Built to cope with the growing demands of train to shore bandwidth from 4G/5G, trackside and satellite networks, it provides the ability to scale as train operators' need to and is built using long-term available components.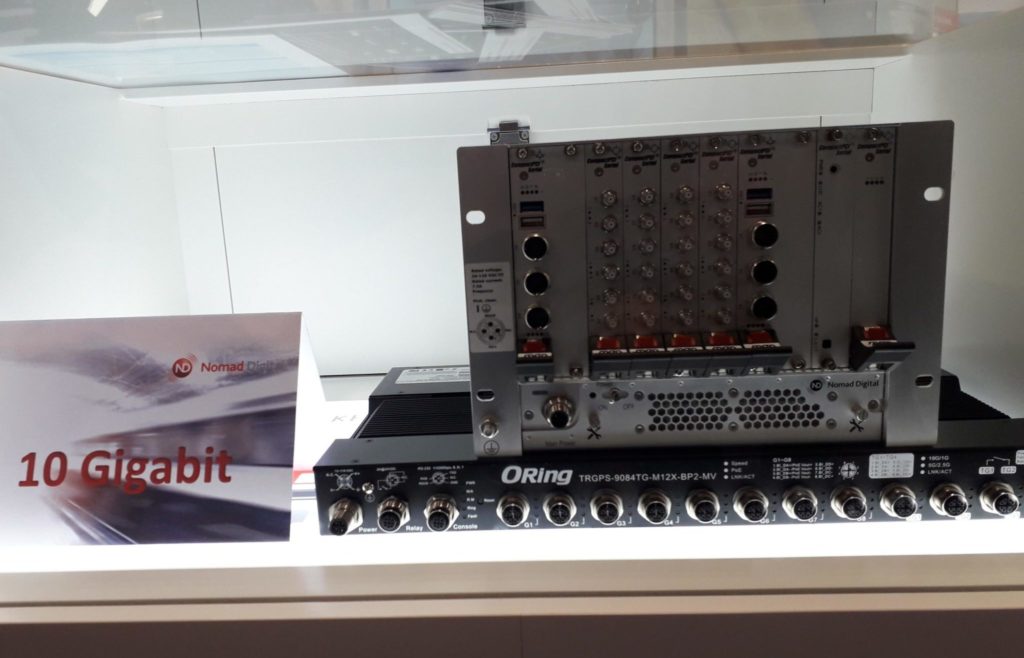 Within a single chassis it is possible to have up to 11x 4G/5G modems and can handle 10 Gigabit Ethernet connections for external radios and on-train local area connectivity. Capable of housing two high speed quad-core processors, expandable memory and disks its possible to run multiple demanding applications.
If that does not sound enough then scale it up by adding a second connected chassis and components to create a platform to run multiple virtualised applications running in either VM's or containers using Nomad's award winning technology, helping to reduce the hardware footprint on the train, lowering TCO and providing a platform for innovation.
Stephen Lathan, Head of Product Management, said:
"The R5001 is built on a proven chassis design meaning, the entire system can be customised to the specific needs of the solution and upgradeable as technology evolves, this is a safe investment in technology that is not going to be end of life before it's installed".
For more information on Nomad Digital please contact:
Vicki Sloan, Marketing and Events Manager
+44 (0) 207 096 6966 Ext. 2088
+44 (0) 7703 685 830
About Nomad Digital
Nomad Digital is the world's leading provider of passenger and fleet connectivity solutions to the railway industry. It offers a broad solutions portfolio to both train operators and builders that significantly enhances the passenger experience, and increases fleet operational efficiency.
Its integrated and scalable solutions include the multi-award winning and patent-protected Passenger WiFi, enabling seamless connectivity with the internet and on-board infotainment. In addition, its Passenger Information System for live journey, multi-media information and Passenger Portal Framework simplifies the creation of custom portals for on-board services and entertainment. And Nomad's Remote Online Condition Monitoring, Driver Assist and Power Train products are targeted at identifying efficient fleet maintenance operations and improving fuel economy.
Nomad is the pioneer of the Networked Train – a shared and secure network infrastructure to which all authorised on-board systems and passenger devices may connect.