New Zealand: KiwiRail Posts Strong Financial Results and Agrees Pay Deal with Union
New Zealand: KiwiRail has posted strong results for the 2017–18 financial year in spite of the Kaikoura earthquake in 2016 that had a negative impact on its freight and tourism lines.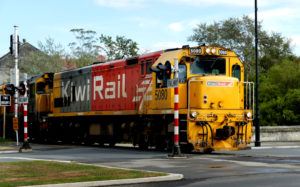 The operator generated a NZ $49 million operating surplus during this period. This figure is 2% higher than the amount for the 2016–17 financial year. The original surplus for 2017–18 would be NZ $94 million, but the damage caused by the earthquake cost the company NZ $45 million.
The New Zealand Government set KiwiRail a target of NZ $30–50 million Earnings Before Tax, Depreciation and Amortisation and the final surplus was at the higher end of this range. The surpluses for 2015–16 and 2016–17 were also within this target.
Peter Reidy, Chief Executive of KiwiRail, said:
"We have spent the past few years building a strong platform for the future – improving operational performance, setting new health and safety standards and ensuring we are an efficient organisation driven by engaged and committed people."
In 2017–18 KiwiRail spent NZ $261 million on capital expenditure, including NZ $57 million on acquiring new locomotives and freight wagons. Revenue from its freight services increased by 6% during this period. The revenue from its tourist lines increased by 22%. The operator also provided 34 million journeys on its Capital Connection commuter line, which provides weekday services between Wellington and Palmerston North. 91% of all services departed and arrived on time.
Rail and Maritime Transport Union Pay Deal
KiwiRail has also signed a pay deal with the Rail and Maritime Transport Union (RMTU) that agrees a flat increase in pay for all 2,319 of the operator's employees who are members of the union. The lowest-paid employees will receive a 6.9% increase in their annual wages. KiwiRail states that employees on higher salaries whose pay will be increased by a smaller percentage also support the agreement. The deal became effective on 1 July 2018 and will remain in place until at least 2020.
The deal is an outcome of KiwiRail's High Performance-High Engagement programme (HPHE) that aims to improve its services by boosting the morale of its employees. The programme, which started in 2015, has also facilitated improvements in health and safety initiatives at KiwiRail.
Wayne Butson, Secretary-General of the RMTU, said:
"This is a significant pay deal for those who need it most. We have worked consistently with HPHE and our members have found the process encouraging and energising. When workers see what needs doing and their suggestions are taken seriously, their confidence is boosted and their job satisfaction increases. Taking this process through to pay talks seemed the next best logical move and we're delighted that KiwiRail management thought so too."
Peter Reidy said:
"This deal was negotiated within a day and with immense goodwill on both sides of the table. I commend the RMTU for initiating this innovative solution. We have moved into a partnership model with the RMTU and tackle many of our issues together as they arise."
KiwiRail has also attributed its strong financial results in recent years to the positive effects of HPHE on its workplace culture.