Australian Rail Track Corporation Solicits Suppliers for First Section of Inland Rail
The Australian Rail Track Corporation (ARTC) is soliciting expressions of interest (EOI) to supply the construction of the Parkes to Narromine section of the Inland Rail project. The deadline for submitting EOIs is 31 August 2018.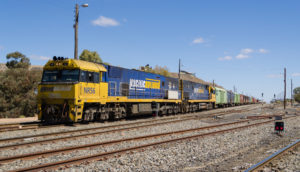 The ARTC and INLink, the project's preferred construction contractor, are keen to obtain most of the supplies for the section in New South Wales from local companies. More than 400 potential bidders recently attended local briefings in Parkes, Narromine and Dubbo. The services required include earthmoving, drainage, water bore drilling, concrete works, electrical works, transportation and security.
The section is still awaiting project approval but it is hoped that construction will start in September 2018.
Mark Stevens, Senior Project Manager for Australian Rail Track Corporation New South Wales (Inland Rail), said:
"With major construction work in the area due to begin in the coming months, this is an exciting time for numerous local businesses and individuals to take action and be involved in the opportunities available. We expect over 200 people to be employed to construct the Parkes to Narromine section of Inland Rail."
Companies who do submit bids to work on the Parkes to Narromine section of the line will not be precluded from supplying other sections of the line.
Steve Emery, Project Director for INLink, said:
"We need the right people and businesses to be involved to deliver the work on-time, on-budget and with minimal disruption to the community. To achieve this, we would like to urge as many businesses as possible to take this opportunity to register their interest. It doesn't matter what sort of services you are able to offer; if you are a company, a partnership or a sole trader, it is crucial that INLink hear from you. The key aim is to maximise participation for local companies, businesses and job seekers in the area, so it is important that we have as much information as possible about the skills and experience available from the local area."
EOIs should be submitted to Mark Goulevitch, project manager for this section of the line: [email protected] by the deadline. Bidders will be contacted by INLink with a request for pricing (RFP) once their EOI is registered in the project's procurement system.
Inland Rail is a planned 1,700km line across several states in Australia. The route will transect New South Wales, Queensland and Victoria and connect the ports of Brisbane and Melbourne. The line is designed for freight services but passenger trains might operate on it as well. Construction is to commence in 2018 and the line should be open to freight operators in 2024–25.
Parkes to Narromine is the first section of the line to be constructed. INLink will build 5.3km of new railway and upgrade 98.4km of existing tracks. Inland Rail expects to employ approximately 200 people to build it.