New Mayor Promises London Transport Reform
The new Mayor of London Sadiq Khan won the Mayoral election on 5 May 2016 as a Labour candidate, defeating Conservative Zac Goldsmith. The son of an immigrant bus driver, Mr. Kahn served as the first Muslim cabinet Minister, specifically as Transport Minister, under the last Labour Government. In that role, Mr. Khan oversaw the early stages of Crossrail. As Mayor, he has promised to make the transport system in the capital more efficient and more affordable.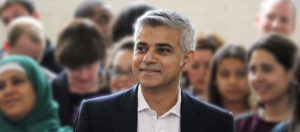 Transport Crisis in the Capital
While on the campaign trail to become Mayor, Mr. Khan cited rising costs of living in the capital, now one of the most expensive cities to live in in the world, with the most expensive daily commutes in the world to match as a reason to herald a change of leadership from Conservative to Labour. The daily commute in London is twice the equivalent cost than New York, Paris and Milan, Los Angeles and Rome. Fares rose by 56% since former Conservative  Mayor Boris Johnson took office in 2008.
Infrastructure spending in the UK is already centred on London and the South East of England, some of which has been spent inefficiently. Under Boris Johnson, a 1km-long cable-car crossing the Thames runs at less than 10% of capacity and cost the city £24 million. It was heralded at the time as a commuter option and has been reduced to a tourist attraction, and not a particularly popular one. In addition, the buses Boris Johnson introduced run at an estimated £37 million more in operational costs than an ordinary bus fleet.
Promised London Transport Reform
The Mayor's pledges on the election campaign included freezing fares, cutting waste and inefficiency, and improving value for money. His key pledge was to freeze underground fares at 2016 levels for four years, and for buses, to cut fares in the first year and freeze them for a subsequent three years.
Mr. Khan also promised to "push" Transport for London (TfL) to take on more commuter rail services, bringing transport under his Mayoral control. He pledged to make sure businesses and London borough councils had a greater role in transport infrastructure planning.
In his campaign to become Mayor, Mr. Khan criticised the wages and bonuses of TfL senior executives, and while he made no promise to change this, he did say that he would make TfL more efficient. It remains to be seen if the management structure, and associated perks, will be impacted by the new Mayor.
He has, however, promised to "reshape" the board of TfL, which is currently staffed by 13 white men and three women, to reflect the diversity of the city it serves. Speaking at a Public Meeting in Brixham, in March 2016, the Mayor said that:
"Women face specific challenges on our transport network that are not currently being addressed. I was appalled about the recent decision by British transport police to scrap the sexual violence unit.  Reports of sexual offences on the London Underground almost tripled over the past five years. As mayor I will take these problems seriously."
While part of the rise in offences is explained by a campaign by the British Transport Police to report sexual offences, though the reduction of staff at stations and on trains may have impacted the number of assaults. Mr. Khan heavily criticised the former Mayor's closure ticket offices in stations, citing not only pragmatic issues for commuters but also the safety of vulnerable passengers.
Far Enough?
Mr. Khan's pledges, however, do not address some issues which could positively impact transport in London. The only significant investment which will alleviate the city's transport crisis was a promise to continue the development of Crossrail 2 (already assured by the 2016 Budget), and "begin consultation" into Crossrail 3.
However, he omitted to look at ways in which the London underground, for example, could be revolutionised by updated signalling systems which would increase frequency and capacity, or the introduction of automated trains making them more efficient and safer. He did not promise a transport revolution, rather an administrative reshuffle and fare-freezes with a few crowd-pleasing, cosmetic promises.
It remains to be seen whether the new Mayor will make good these pledges, or indeed whether he will be able to. The city will continue to grow, and its transport infrastructure must not just grow with it, but evolve also.