Crossrail 2 Project – London's Next Infrastructure Development
London's transport is in the midst of a revolution. Crossrail 1 tunnelling has finished and the Elizabeth Line, as it will be known, is set to begin running full passenger services by 2020. HS2 is expected to begin construction for the high-speed line linking London with the Midlands and the North of England in 2017. Transport for London is constantly undertaking improvement works on the Overground and underground networks, and Network Rail is carrying out the largest infrastructure improvements to Britain's railway since the Victorian era. In this environment, the Crossrail 2 project is moving from possibility to reality.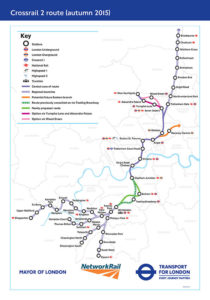 This is all happening because London is a growing city; its population is currently at 8.6 million and is expected to reach 10 million by 2030. This translates to five million additional journeys on public transport in the city each day. As such, infrastructure must develop in line with demands. Although Crossrail 1 will increase the city's transport capacity by 10%, it is far from sufficient. And while Crossrail 1 runs from east to west, this leaves a gap in the provision of transport from north to south – filled by Crossrail 2.
Crossrail 2 Project Planning
Crossrail 2 was allocated £80 million in development funding from the 2016 Budget. It follows a National Infrastructure Report which stated that Crossrail 2 should progress as a matter of priority. It also recommended submitting a hybrid bill by autumn 2019, following which the project will go ahead. The finer options for the route are dependent on factors including engineering, technical issues, availability and land acquisition.
The Budget allocation follows a full engineering and capital cost study and public consultation carried out in 2013 and a second in 2014. In response to these consultations, the planned route was adjusted to meet the needs of stakeholders and the public. The response to the project has been consistently positive, in large part because of the success of the Crossrail 1 construction, and also because of the recognised need for better transport links to London from Surrey and Hertfordshire.
Following the allocation of funding, Crossrail 2's Managing Director Dr Michèle Dix CBE, said:
"We will be working on the detailed design so that we can seek powers in Parliament to get construction under way. This should mean we can have the railway running just after 2030… We will now look at these along with further technical studies to see how we can amend our proposals to best fit in with the local areas whilst delivering this vital infrastructure to support growth."
The cost of Crossrail 2 is currently estimated to be between £27 and £32 billion in total – including construction, management and rolling stock, as well as Network Rail works to accommodate the Crossrail line, and rolling stock on mainline tracks. Funding options include that half of the costs could be covered by the City of London under existing funding packages; investment levied against revenue from fares, Business Rate Supplements and the Mayoral Community Infrastructure Levy (CIL), as well as direct funding from developers and land owners who would benefit by their proximity to the route, council tax precept and land and property resale.
Crossrail 2 Route
Crossrail 2 is in the early stages of planning; even the route is not finalised yet. It is expected that Crossrail 2 would run from the National Rail networks in Hertfordshire to Surrey, via purpose-built tunnels running beneath the centre of London. It will link to London underground and overground, Crossrail 1, and national and cross-channel rail networks.
Crossrail 2 trains are planned to run on National Rail lines north of Tottenham Hale (north London) and south of Wimbledon (south London), with tunnels between Wimbledon, Tottenham Hale and New Southgate. It will connect stations including Balham, Clapham Junction, Victoria, Tottenham Court Road, Euston St. Pancras and Angel, before joining National Rail lines at Tottenham Hale and Wimbledon and continuing into Surrey and Hertfordshire.
Lessons from Crossrail 1
The Crossrail 1 construction has been one of the most impressive infrastructure projects of this generation. 42km of tunnels were bored beneath London by eight 6m, 1000-tonne tunnel boring machines working underground non-stop to complete the tunnelling in three years. A specialist Tunnelling and Underground Construction Academy was established for Crossrail 1, creating 5,000 specialist engineers and construction workers who will be ready and more than able to construct Crossrail 2.
Over the course of the construction of Crossrail 1, disruption from noise and vibrations as well as delays associated with road-closures and service disruptions was kept to an absolute minimum, and it is expected that Crossrail 2 will follow this example.
It is anticipated that Crossrail 2 will also follow Crossrail 1 in terms of tunnelling methods and dimensions (with the same 6.2m tunnel diameter), running the same rolling stock. Ventilation systems may be improved upon, impacting the size of the tunnel to improve ventilation. In an industry with constant improvements in engineering taking place, Crossrail 2 is likely to be an even more impressive engineering feat than Crossrail 1. It is a fitting legacy, since the success of Crossrail 1 all but guarantees Crossrail 2 becoming a reality.