The EVO KR tool makes it quicker and easier to process KR ties with the bonus of fully adjustable tension – KR-Series cable ties are designed for heavy-duty bundling reliability wherever vibration is a constant factor.
HellermannTyton has launched the EVO KR manual tool for application of its specialised KR-Series cable ties, which are designed for high tensile strength and vibration resistance.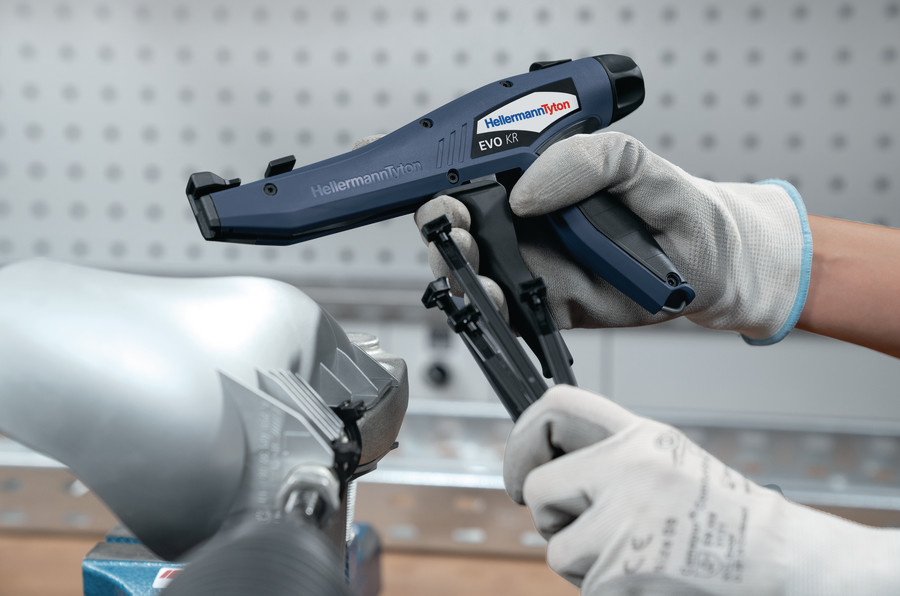 The EVO KR tool makes it quicker and easier to apply KR ties. The redesign is based on the company's tried-and-trusted EVO range of ergonomic manual cable tie guns for conventional plastic cable ties.
The design of the EVO KR makes it possible to tension, lock and cut KR ties in two steps, using just one hand. No threading is involved. The looped tie end is simply inserted sideways into the tool. Combined with the light, yet robust reinforced plastic housing, these ergonomic features maximise both timesaving and operator comfort.
"The tension force can be adjusted for consistent results to specific bundling requirements. This is a great benefit because it eliminates inconsistent results from operator to operator and the risk of overtightening on bundles. That accuracy and the robustness of the ties is especially important for our customers in the automotive, railway and renewable energy industries."
Benefits at a Glance
Quicker KR tie application
Fasten, secure and cut in just 2 steps
Simpler sideways tie insertion
One-handed operation
Precise, calibratable tension adjustment
Improved weight and ergonomics
Easy blade maintenance
The EVO KR tool (article no. 121-68000) is available to order from electrical wholesalers.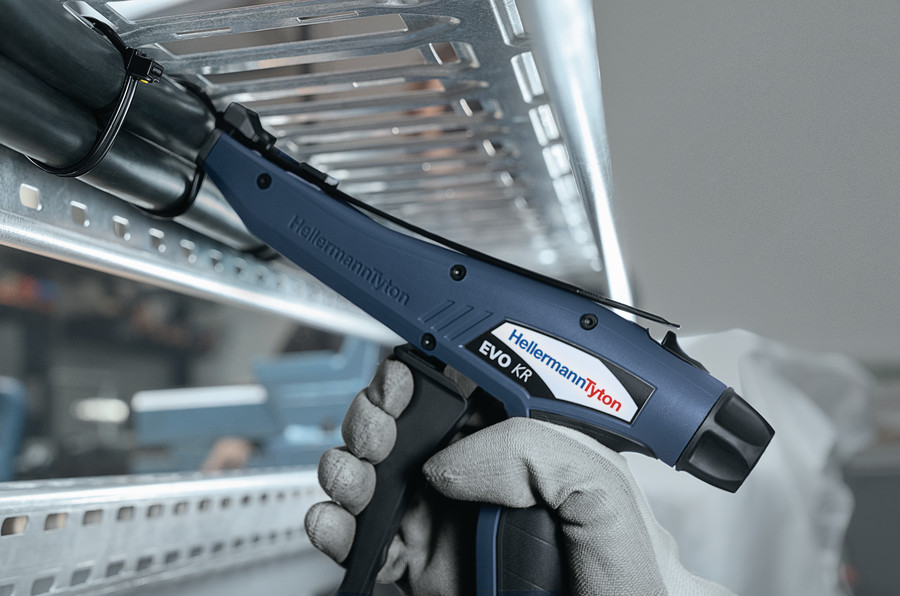 Further Background
KR-Series cable ties are distinguished by their smooth strap and unique locking mechanism. They have a very high tensile strength of 785 N. Due to its special design, KR-Series cable ties can be used to safely bundle heavy cables or to secure bellows on steering racks, fluid hoses or vacuum lines. The EVO KR tool punches a glass-fibre pin in the head of the tie into the smooth strap to secure it firmly in place. This is extremely resistant to the effects of vibration over time and cannot be opened by accident.
An animated video clip and detailed information about the EVO KR tool are available here.
This article was originally published by HellermannTyton.