Middle East Rail: What's New for the Biggest Rail Show in the Region?
From modernising legacy networks, to building transport corridors of the future, upgrading signalling and telecommunications systems, and financing new networks; Middle East Rail has it all.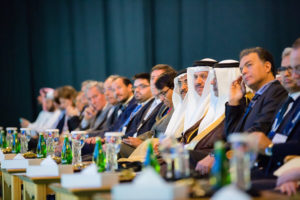 The event is the only rail event to run in partnership with the UAE government, providing project update overviews from not only the GCC, but the entire Middle East, North Africa, Central and South Asia. From the latest developments of the GCC connectivity network, to the modernisation of Egypt's rail lines; the Belt & Road links in Central Asia to the boom in Indian passenger and freight efficiency; operators from across the super region will bring updates in the form of interactive roundtables, panel discussions and presentations.
In 2018, the conference agenda will feature more content on privatisation, digitalisation, modernisation and pioneering the future of Mobility 4.0.
What Can You Expect From the Event?
150 world-class industry speakers to cover the most exciting projects across the Middle East, North Africa, Central Asia and Indian Subcontinent.
4 Conference streams discussing the topics and training you need to fund, plan, build and operate your networks.
Project updates and rail innovation roundtable discussions are one of the top highlights for this event. Where else can you sit down one-to-one with the heads of the largest rail projects?
The event welcomes over 7500 attendees from transport ministries within the regional markets, rail developers, transport operators, government, contractors and suppliers to talk strategy, technology and innovation for passenger and freight projects.
Learn more about the speakers, networking opportunities and booking information by downloading the event brochure.

FOR ALL THE LATEST INFORMATION, NEWS, IMAGES, AND ARTICLES ON ALL RAILWAY EVENTS, PLEASE CLICK HERE.