2nd Annual Future Rail India Summit – Day 1
The Indian Government is undertaking several initiatives to upgrade its existing infrastructure and enhance the quality of services provided. The Future Rail India Summit 2017 in New Delhi, India, was successfully launched at New Delhi's Hotel Sheraton.
Organised by Nispana Innovative Platforms, industry experts and thought leaders gathered to discuss the modernisation efforts of the nation's largest public transport carrier.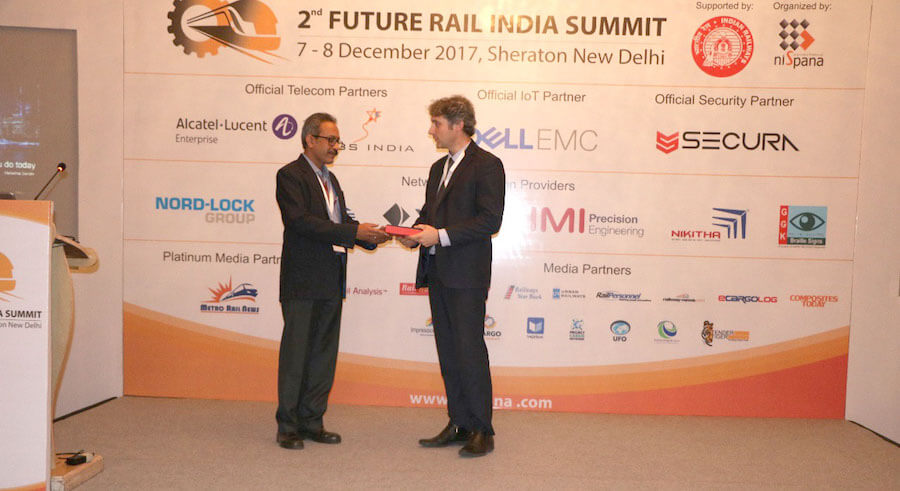 Over 150 participants witnessed visionary keynote presentations and case studies including Dr. Madhukar Sinha, Executive Director (Innovation), Railway Board, Mr. Rajiv Chaudhry, Advisor (Station Development), Railway Board, Dr. Deepak Tripathi, Chief Mechanical Engineer, Konkan Railways, Dr. Anirudh Gautam, Executive Director, SHRESHTA.
This immense gathering also featured solutions showcasing from technology providers like Alcatel Lucent Enterprise, DELL EMC (as the official IOT Partner), Secura (as the official security partner) and Nord Lock Group, Leroy Automation, Xtralis, IMI Precision Engineering, Nikitha, CGK Braille Signs (the Networking Solution providers). There was intensive networking amongst the attending delegates, speakers and dignitaries.
The conference is conceptualised and developed by Nispana Innovative Platforms Pvt Ltd., headquartered in India with offices in Dubai and USA.
FOR ALL THE LATEST INFORMATION, NEWS, IMAGES, AND ARTICLES ON ALL RAILWAY EVENTS, PLEASE CLICK HERE.