Melbourne High Capacity Metro Trains Contract Signed
Minister for Public Transport Jacinta Allan recently announced that a consortium led by Downer Rail will build the 65 High Capacity Metro Trains being delivered by the Andrews Labor Government. The contract is the biggest order of new trains in Victoria's history. 
The awarding of the A$2 billion contract paves the way for construction of the new trains, which are 20 per cent bigger and will reduce crowding on Victoria's busiest rail corridor – the Cranbourne Pakenham line – before running as a dedicated fleet from Pakenham to Sunbury through the new Metro Tunnel.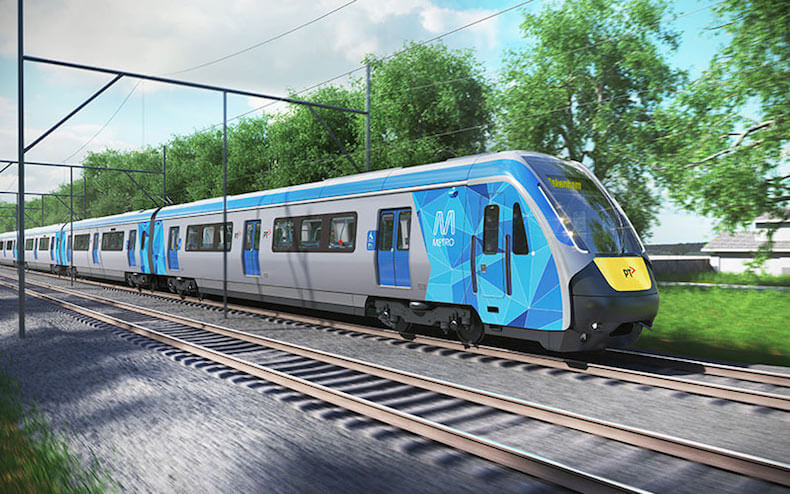 Every one of the new trains will be built in Victoria, with 60 per cent local content, exceeding the Labor Government's commitment to 50 per cent local content.  Compared to the previous-Liberal Government, who were going to build trains in South Korea and offshore the jobs that come with it, the Labor Government's project will create 1,100 highly-skilled local jobs. Fifteen per cent of work on the project will be carried out by apprentices, trainees and engineering cadets, giving young and re-skilling workers a head start in their new careers. 

Together with the $1.6 billion Caulfield to Dandenong Level Crossing Removal Project, the new trains will increase capacity on the Cranbourne Pakenham line 42 per cent, creating room for 11,000 extra passengers in the peak.

The first HCMT will be delivered and in testing by November 2018, ready to enter service in 2019. All 65 trains will be ready for the opening of the Metro Tunnel in 2026.

Minister for Public Transport, Jacinta Allan, said:
"We're investing in new trains built in Victoria, for Victoria – putting local jobs and local train users first."

"Together with the removal of every level crossing between Dandenong and the city, these new trains will reduce crowding and make the daily commute more comfortable for thousands of passengers."
Wade Noonan, Minister for Industry and Employment added: 
"These new trains will create 1,100 highly-skilled jobs and provide experience and opportunities to young workers, and people re-skilling from other sectors, including the auto-industry."

"These new trains are an investment in people – in their livelihoods and the time they get to spend with loved ones. The contract is signed, and work starts next year – we're getting it done."
For the original article, please click here.