Second TBM Enters Service for Sydney Metro Project
The second of five tunnel boring machines (TBMs) has begun working.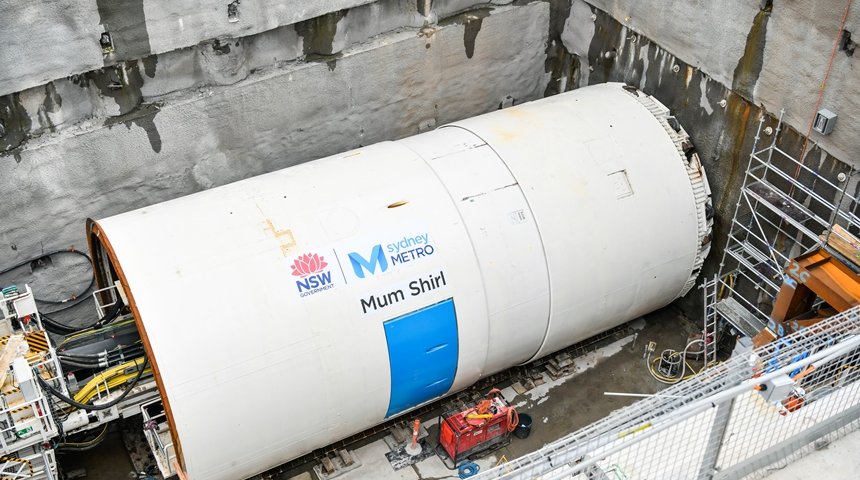 Tunnel Boring Machine Mum Shirl
Named Mum Shirl, it has been deployed at Marrickville to help create the 31km of tunnels for the Sydney Metro project, which is expanding the metro network in the city in New South Wales into the Central Business District.
The first TBM for the project, Nancy, began operations three weeks ago. Together they are creating 8.1km of twin metro tunnels between Marrickville and Barangaroo, where they will be removed from the ground.
Both tunnel boring machines are around 150 metres in length and have been specially designed to cope with Sydney's hard sandstone geology. They will tunnel 120 metres per week on average.
Two additional tunnel boring machines will create a 6.2km tunnel between Chatswood and the edge of Sydney Harbour, while a fifth one has been designed especially to create the twin tunnels under the harbour.
All tunnel boring machines are given female names. This current one, Mum Shirl, has been named after an aboriginal woman who dedicated her life to her community and raised sixty foster children. In 1977 she was made a Member of the Order of the British Empire and in 1985 she was awarded the Order of Australia.
Read: Sydney Metro TBMs to Begin Work on the Project's Tunnels