Long History Between Daktronics and SBB Leads to Long LED Display Installation
The travelling experience in Switzerland has been completely transformed when it comes to railways. New, crisp, vibrant signage is now catching the attention of passengers, sharing vital travel information and generating additional revenue for railway stations.
The transformation for Schweizerische Bundesbahnen (SBB) began late in 2014 and had continued through the years.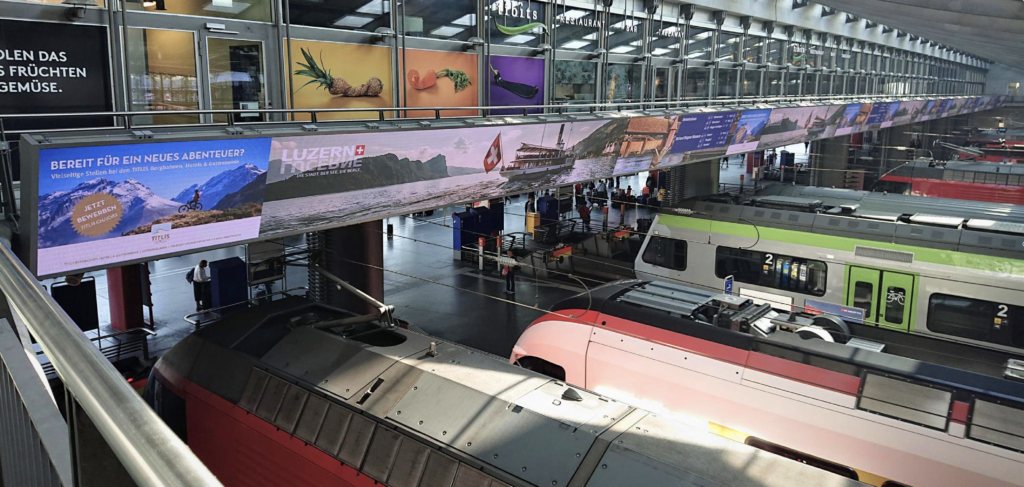 Today, Switzerland's largest travel and transport company has installed more than 50 LED video displays at nearly 20 locations. All of these signs have one thing in common – Daktronics. Most recently, in 2019, a massive LED display featuring 4-millimetre line spacing was installed at Lucerne Station. The display is 1.27m tall (4 feet) and 99.54m (326.5 feet) wide. That's nearly the length of a professional football pitch!
This is an additional display to support the flow of travelers from the train to the outside of the station with information for connecting local travel options. The flexibility of LED technology allows the station to show a combination of train schedules, travel information, advertising, emergency messaging and more.
SBB was the first public transport company in Europe to embrace LED technology with large- screen, central displays across an entire network of stations. The LED technology isn't only flexible with regards to the content, capable of changing the messaging at a moment's notice; it is also easier to control and service, and ensure that clear, visible information is reaching all viewers.
After the first 50 LED displays were installed, Daktronics received SBB's Infrastructure Partner Award for excellence in the installation of the first two displays, which are in the town of Neuchâtel. The company also received SBB's Best Supplier 2015 in the quality category.
SBB stated that Daktronics helped to achieve the goals of SBB in a timely and flexible manner.
SBB visited Daktronics facilities in Brookings, South Dakota, USA, in order to perform a formal audit to fully understand the production process of their products and the details of their specific project.
"This is a very exciting project for Daktronics and we are pleased to provide SBB industry-leading solutions to assist commuters in receiving up-to-date, accurate information.
"During testing phases, Daktronics was able to display everything SBB asked for and according to their specifications, providing them with confidence in our products. Daktronics will also provide SBB a lower total cost of ownership for the lifetime of the displays."
The installation at Lucerne Station extends the Daktronics and SBB partnership of delivering quality LED display products in a timely manner to help the communication efforts at SBB's railway stations.
It also continues the versatile communication the LED system allows, not to mention the return on investment LED provides by working together with an OOH (out-of-home) company that is promoting advertising content on the LED installations.