Colbert Station Limerick Outfitted with Full Colour, Full Matrix LED Technology
To better share information with their passengers, Irish Rail partnered with Daktronics to manufacture and install a new LED display at Colbert Station Limerick in Ireland this past December. This was the first Irish Rail station selected to install Daktronics narrow pixel pitch technology. The new full-colour display was mounted in the same location as the previous signage which was installed by the same company more than 15 years ago.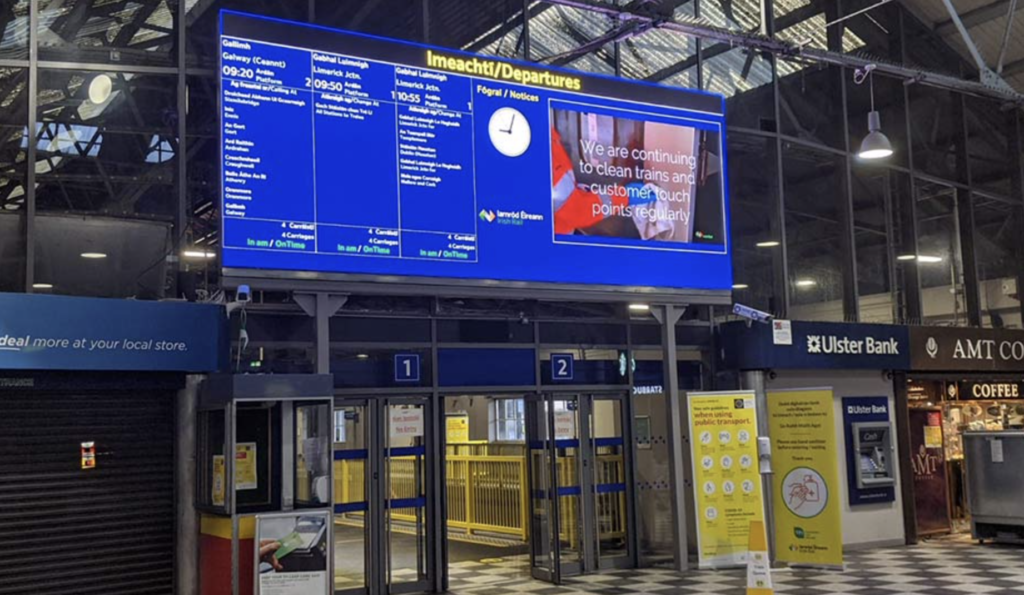 The digital full-matrix technology provides increased flexibility to share real-time passenger information in two languages. It also allows for the ability to highlight public messaging including everything from COVID-19 related information and safety messages to weather alerts and corporate branding.
"Adding this narrow pixel pitch, full-colour technology will be a great enhancement and modernisation of the passenger experience in Ireland. We're fortunate to continue our longstanding partnership with Irish Rail, one that dates back to the mid-1980s. The new display will open opportunities above and beyond those allowed by the previous monochrome signage and we're looking forward to seeing it impact passengers for years to come."
The new display brings video-capable LED technology to Colbert Station. The display features narrow pixel pitch technology at 2.9-millimetre pixel spacing. It measures 2.5 meters high by 6.5 meters wide to bring high-resolution imagery and excellent contrast to all content shown.
Daktronics provided engineering and installation support for the new signage which allowed for the display placement and overall project to be completed.
This article was originally published by Daktronics.