Daktronics to Exhibit Several New Products at ISA Sign Expo 2019
When International Sign Association's (ISA) 75th Sign Expo® kicks off April 24-26 in Las Vegas, Daktronics (NASDAQ-DAKT) of Brookings, South Dakota, will showcase several new products in booth #2725 at the Mandalay Bay Convention Center.
Visitors will view new products of interest to various sign industry markets at booth #2725:
GT6 10 mm Galaxy® series designed for high-quality, high-resolution images.
Daktronics-Verizon Lifetime Cellular Data Plan saving hours of installation time and keeping private networks safe at the best price in the industry.
LED Street Furniture meeting the public where they are with high resolution and 5,000 nits of brightness.
Indoor 4 mm rotating displays ideal for shopping centers and other large, open indoor spaces.
ADFLOW offering a wide range of indoor digital media solutions to multiple markets.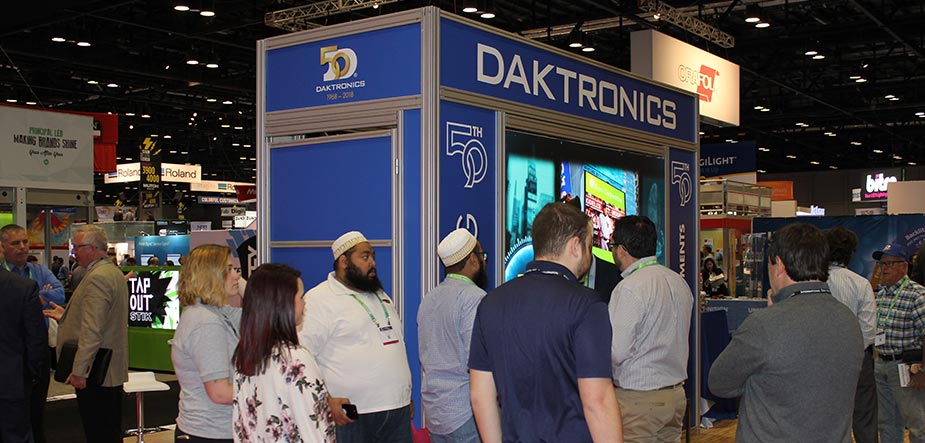 Daktronics On-Premise Market Manager Tylor Nilson will speak at a Lounge & Learn session, 1:15-1:45 p.m. on Friday, April 26. His presentation is "What Your Customers Expect from a Digital Display Supplier".
Nilson will talk about how attendees can protect their brand and select vendors that align with their business goals. In addition to a reliable display, customers today expect lifetime support. Vendors must supply services and tools that help optimize the technology and make it easy to manage.
Founded 75 years ago, ISA hosted its first tradeshow in 1947. Last year, the event attracted twenty thousand attendees who interacted with nearly 600 vendors. Daktronics regards the Sign Expo as a source for serious solutions, real results and opportunities for powerful connections.
About Daktronics
Daktronics helps its customers to impact their audiences throughout the world with large-format LED video displays, message displays, scoreboards, digital billboards, audio systems and control systems in sport, business and transportation applications. Founded in 1968 as a USA-based manufacturing company, Daktronics has grown into the world leader in audiovisual systems and implementation with offices around the globe. Discover more at www.daktronics.com.