Bond Street Elizabeth line station opened today, 24 October, with the first Elizabeth line service arriving at the station at 5.47am and continuing at five minutes intervals thereafter.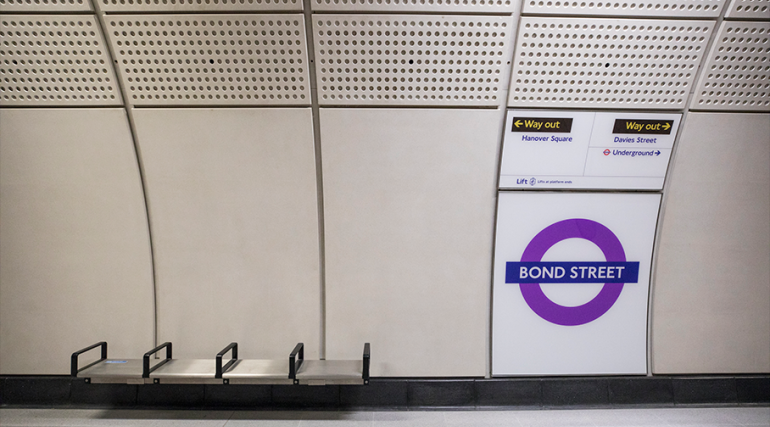 This will increase to every three to four minutes from 6 November, when services will begin to run daily and the lines from Reading, Heathrow and Shenfield will connect with the central tunnels. This will enable through journeys from the east to west of the UK's capital.
During construction in 2016, the station was visited by Queen Elizabeth II to mark the renaming of the railway in her honour; it is the last of ten stations to open along the Elizabeth line's central section.
The station expected to accommodate almost 140,000 Elizabeth line passenger journeys daily, more than doubling the number of people currently using it to visit the area.
It will also increase the connectivity of the Elizabeth line with the Central and Jubilee lines through new interchanges, and lower congestion at close by stations such as Oxford Circus.
The Bond Street station features two new spacious ticket halls lead passengers to the Elizabeth line platforms, abstract artworks by British artist Darren Almond, step-free access and the line's longest escalator.
At 60 metres long, the Hanover Square entrance escalator is the second-longest on the entire TfL network, just one metre behind those at Angel station.
In addition, Crossrail worked with Westminster City Council to improve the area around the station.  This included the first public courtyard to open in Mayfair for over a century: Medici Courtyard.
As the station opened this morning, its first customers were greeted by London's Mayor and Transport Commissioner, alongside the UK's Parliamentary Under Secretary of State at the Department for Transport.
"Today's opening, after years of hard work, marks the completion of the central section of the Elizabeth line, which now includes 10 world-class new stations.
"I am also pleased that through journeys from the east and west into central London are now less than two weeks away.
"It has been a huge privilege to have served as the Transport Commissioner for this incredible city. I am proud to have worked alongside a great team to get this station open and complete the railway."
Since opening on 24 May, the Elizabeth line has seen more than 27 million journeys on the central section, and more than 54 million journeys in total.
Its full timetable is on track to be in place by May 2023. This will include end-to-end journeys from Shenfield to Heathrow and up to 24 trains per hour between Paddington and Whitechapel during peak times.