Lantech Communications Launches New 2019 Product Guide
IP Ethernet products expert Lantech has launched its new product guide for 2019. Lantech offers top network solutions for industrial and IP networks. In addition to priding itself on its high-quality product, the company is also driven by outstanding service and support.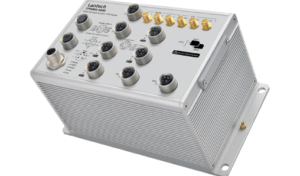 Lantech has sales offices located around the world, in countries such as Taiwan, Germany, the United Kingdom and Korea. Its products can be used anywhere in the world for any project requiring cost-effective, high-performance solutions for any industrial IP network. This is coupled with on-going support for any of Lantech's legacy products.
In rail, Lantech's solutions have been installed in Finland to assist the country's tram system, and in France on the railway network. However, Lantech's products are not sector-specific and can be used in varied applications such as in urban surveillance, highway systems and for the military.
Lantech 2019 Product Guide
The 2019 Product Guide is broken down into four main sections:
industrial solutions
hardened ethernet connections
ethernet connections
accessories
Industrial Solutions for Rail
Lantech provides on-board networking switches for rail-train, metro and trams. Lantech's new generation ethernet switches are EN 50155:2017, EN 55032, EN 50124, EN 12663, EN 45545-2, and IEC 60571 certified.
Lantech also provides on-board / trackside networking routers.
Hardened Ethernet Connections
Lantech's routers come at three different product levels: fixed, basic package, and full package. There are three different options in the basic package and four in the full package, meaning that Lantech offers eight different schemes for load balancing to deliver maximum performance with the bandwidth available.
Rail passengers are familiar with wifi as a service they value and Lantech's products can of course deliver this and so much more. For example, Lantech's Railway Network Address Table (R-NAT) is an IEC 61375 algorithm for network address translation between Ethernet Train Backbones (ETB) and Ethernet Consist Networks (ECN). It uses the rules for train and Consist network addresses, which simplify the management of address translation.
Accessories
Lantech's range of accessories includes wireless antennas and wireless accessories such as magnetic antenna bases, baskets, cables and connectors.
Please consult the product guide for both more information on these particular applications as well as for further applications outside of the rail sector.