Jewers' installation of six sets of Swift-SEW bi-folding doors, for the new Lilyfield maintenance depot for Sydney Light Rail. The doors were manufactured at Jewers' factory in Biggleswade before being shipped into Sydney.
The CBD and South East Light Rail is a new light rail network for Sydney which will significantly improve public transport access to major sporting and entertainment facilities, as well as the University of NSW, TAFE College and several hospitals.  The 12km route is expected to transport more than 9.7 million customers each year. The Lilyfield Light Rail maintenance depot building, along with a stabling depot at Randwick will provide overnight storage and maintenance for the light rail vehicles (LRVs), and Lilyfield can accommodate up to six LRVs for servicing at any one time.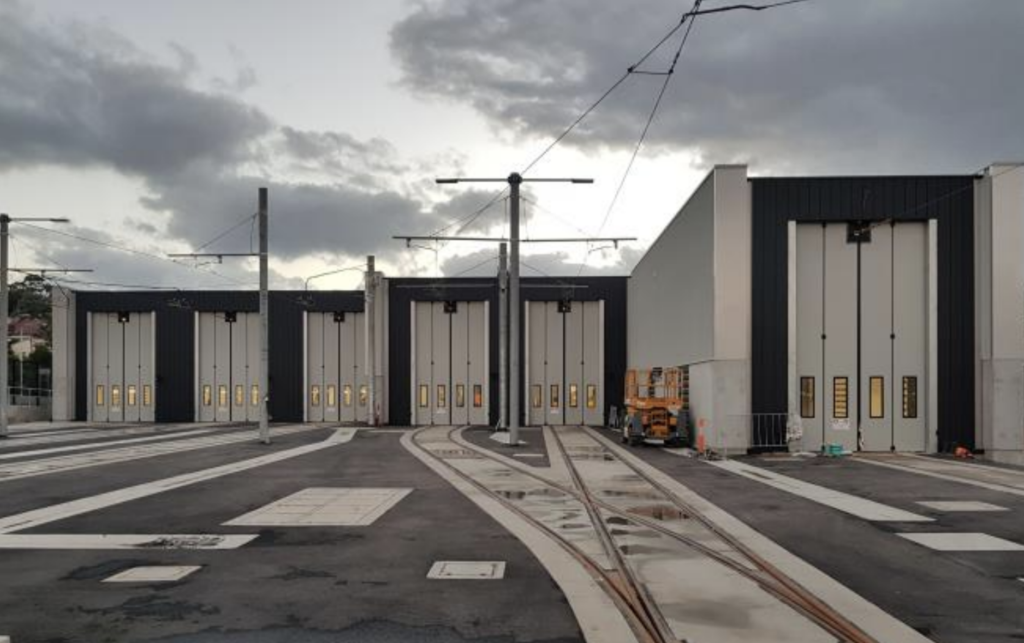 MDS were commissioned by the principal project team of Coleman Rail and Architectus to supply and install automatic bi-folding doors which are fitted to the six LRV entrance roads into the Lilyfield depot.
All six sets of doors are 3.74m wide and 6.1m high, configured in four leaves with two leaves folding to each side clear of the opening on the inside of the building. Each door set incorporates a high level 600mm x 630mm cut-out, which enables the door to safely close around the overhead line equipment (OLE).  The cut-out is lined with a dielectrically rated rubber sheet to prevent bird entry and reduce dust ingress, and the door is earthed back to the structure.  Each door leaf is fitted with a double glazed toughened glass vision panel set in a thermally broken aluminium frame to provide light ingress and allow the tram driver visibility during operation.
Doors are operated by a powerful, centrally mounted SEW drive unit which opens and closes the door in 7 seconds.  Control is via a purpose-built PLC control panel incorporating inverter control for ultra-smooth operation and integration with the building management system.  In the event of power failure, a low-level disengage handle enables the doors to be opened easily by hand.
The leading edge of each door incorporates full height pressure sensitive safety edges to ensure user safety. Additional send/receive photocells prevent the door closing on an LRV and create a safe zone around the door.   Each door leaf is fitted with full perimeter, seamless, multi-wall EPDM rubber seals to prevent dust and water ingress.
Jewers Doors' director, Mark Jewers commented, "Despite being on the other side of the world, major construction authorities in Australia now recognise the quality and value of UK engineered doors for major projects such as this. We are therefore delighted to be invited to utilise our experience and expertise to supply specialist doors for another prestigious project in the booming Australian rail industry. MDS are a well-respected supplier of high-quality industrial doors in Australia, and we are currently worked closely with them on several other rail projects and look forward to exhibiting with them at AusRail in Sydney later this year."
This article was originally published by Jewers Doors.