Jewers Open the Doors to the Qatar 2022 World Cup
Jewers Doors' local reseller; Rumaillah Warehouse Equipment WLL, have recently completed the installation of 30 sets of Swift-SEW automatic bi-folding doors for the new Lusail Light Rail Transit (LRT) depot complex in Qatar.
Expected to open in 2020 the Lusail LRT will provide an efficient transportation system for the people living in, and commuting to the new Lusail City, where the new 80,000 seat Lusail Stadium will host the 2022 FIFA World Cup Final.
The thirty sets of 6.45m high electrically operated Swift-SEW doors were installed on three depot buildings. Six sets are on the Service Station, which incorporates the wash bay, twelve sets within the Maintenance Building and a further twelve sets on the Stabling Depot, which houses the trams when they are not on the dusty streets of Qatar.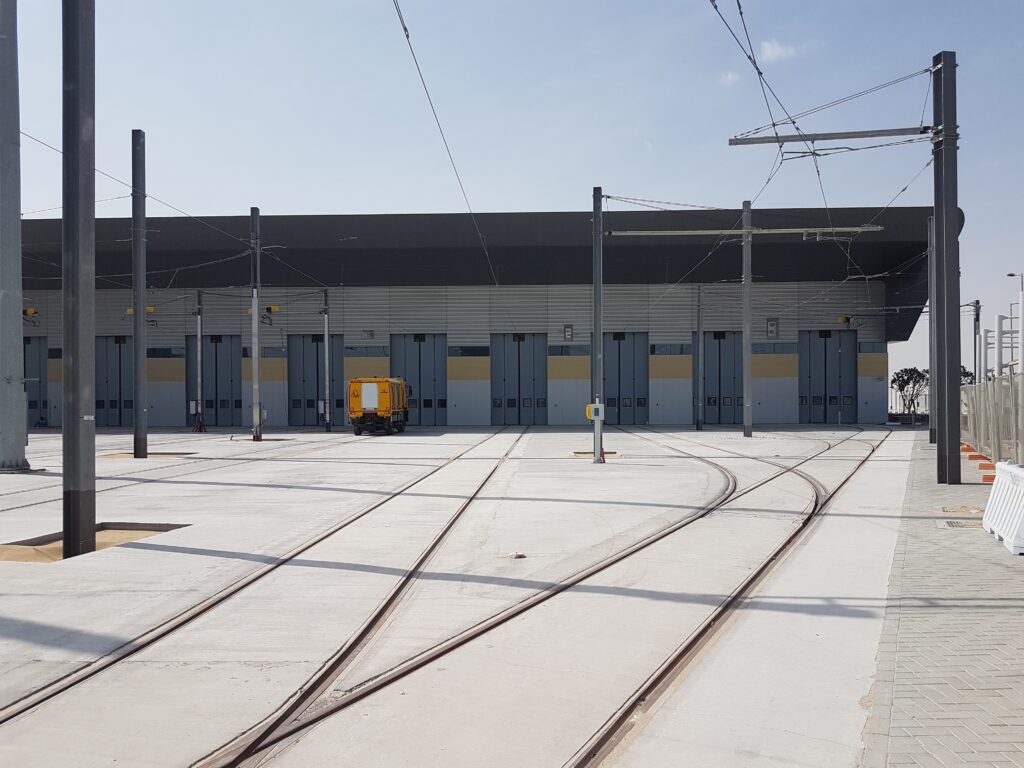 Individual doors automatically open and close as a tram slowly passes through a sequence of photo-beams on either side of the door opening. These beams also act as safety devices to prevent the doors closing until the tram has full cleared all beams, and together with full height safety edges provide ultimate safety for tram and personnel alike.
Each Swift-SEW door comprises four highly insulated, steel composite panels, which are hinged to the jambs with two leaves folding to each side clear of the opening. Door leaves are finished in a special 'cool finish' coating to reduce heat absorption through the door, and are fitted with multi-wall EPDM rubber seals to all edges to reduce, air and dust and water ingress. The combination of finish, high density insulation help to keep the blistering heat out, and maintain the cooler conditions within the depot buildings.
Doors are operated by a powerful, centrally mounted SEW drive unit, combined with a purpose designed PLC control panel incorporating inverter control for smooth operation. Opening time is under eight seconds, and in the event of power failure, a low-level disengage handle enables the doors to be instantly opened from ground level.
Eighteen of the doors are fitted with wicket doors, allowing authorised personnel to easily and safely pass through the opening without the need to open the main doors. For visibility and natural light, all door leaves are fitted with a 600 x 600mm argon filled, toughened glass, double glazed vision panel.
A high level 850mm x 760mm cut-out allows the door to safely close around the overhead line equipment (OLE). This cut-out is lined with a dielectrically rated rubber sheet tested to 30kVA, which is design to prevent bird entry and reduce dust ingress. As standard, the door is earthed back to the structure with suitably rated earth bonding braids.
Jewers' Regional Sales Manager; Ben Pritchard commented, "Jewers Doors have been approved for installation by many agencies in the Middle East. Our doors not only meet the high standards specified for major infrastructure projects, but the current exchange rate means Jewers offer excellent value. With our office in Dubai and locally based resellers in each GCC country, Jewers are ideally placed to provide a world class service throughout the Middle East."
This article was originally published by Jewers Doors.