Power to Passenger Trains: How Hydrogen Can Revolutionise Railway Operations in Europe
Hydrogen fuel cells are recognised as one of the keys to a carbon-neutral future, and that future is now. Powering a passenger train with hydrogen. It sounds like something out of a sci-fi novel, but in Europe, this is now a reality.
Cummins' customers can depend on a range of technologies from diesel and natural gas, to fully electric and hydrogen solutions. As the demand for zero-emission transportation increases, alternative technologies continue to be the right solution for customers around the globe. Hydrogen fuel cells are recognised as one of the innovative solutions necessary for a carbon-neutral future, generating enough energy to power passenger trains.
The French railway manufacturer Alstom shows what the successful development of such a hydrogen train could look like. Alstom is among the first railway manufacturers in the world to develop a passenger train based on such a technology, with the first trains in regular service running in the northern German town of Bremervörde and now Austria. Cummins' fuel cell and hydrogen technologies business, formerly known as Hydrogenics, supplied the necessary fuel cells.
The Start of the Journey
In 2015, Hydrogenics—now part of Cummins—was selected as a key partner by Alstom to develop and implement hydrogen fuel cell systems for Alstom's iLint, the world's first hydrogen fuel cell train. The train was first previewed at the Innotrans exhibition in Berlin in 2016, with the first test drive taking place in Germany the following year. With a range of up to 1000 kilometers per each hydrogen tank fueling, the fuel cell train matches the miles per fueling performance of conventional regional trains, with lower environmental impact and lower noise levels while having a top speed of 140 kilometers per hour.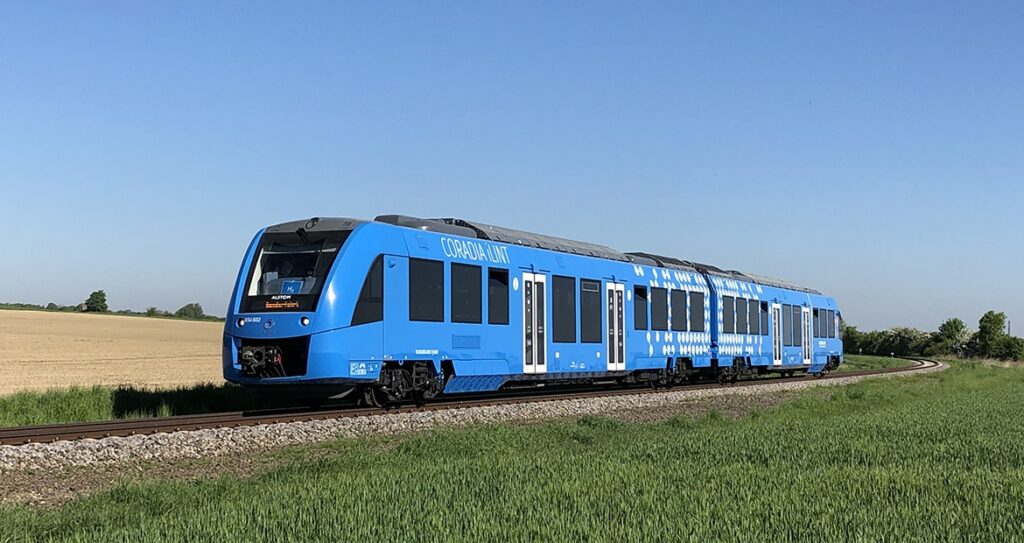 Rather than using the overhead wiring, hydrogen fuel cell technology is an alternative approach to electrifying passenger trains using existing rail infrastructure. In this case, hydrogen fuel cell power modules on the top of the train car are at the heart of the system and provide sufficient energy by combining hydrogen and oxygen. The fuel cells work by extracting oxygen from the ambient air, while the storage tanks supply the hydrogen demand. The fuel cells and the hydrogen tanks are mounted on the roof of the train. When in motion, the fuel cell powered passenger train emits only water vapor, which is the only by-product of the hydrogen and oxygen reaction in the fuel cell, a truly clean energy conversion.
Since September 2018, two hydrogen fuel cell trains have been successfully used in commercial service in northern Germany, each of which is equipped with approximately 150 seats. Since the prosperous launch of the hydrogen fuel cell trains, increasingly more railway operators have expressed interest in the emission-free alternative. As a result, Alstom announced a trial in the Netherlands which tested further hydrogen powered trains. First serial production of 14 iLints, Alstom's hydrogen powered train, started operating in 2021 in Lower Saxony. Additionally, Alstom will supply 27 hydrogen trains until the end of 2022 for operations in the Rhine-Main region. There is interest from other German federal states and in other European countries to use the train for not electrified tracks. Offering this kind of mobility, the French manufacturer is a worldwide pioneer for fuel cell mobility in passenger trains and active promoter of sustainable mobility.
The Future Is Now
"By providing hydrogen fuel cell solutions for powering passenger trains in Europe, we have proven our capabilities in this field and proven our ability to power our customer's success. To meet changing regulatory standards and future environmental and energy goals, we understand that for us and our customers to be successful over the long-term we must have a broad product portfolio powered by multiple energy sources. Providing hydrogen fuel cell solutions is taking us one step further to meet the evolving needs of our customers."
Looking ahead, hydrogen continues to be a promising technology, enabling clean mobility for a more sustainable future.
This article was originally published by Cummins Inc..